Johnstown Green Drinks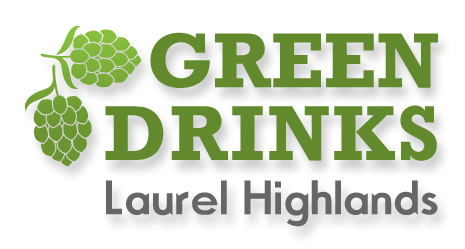 Welcome to the Green Drinks Laurel Highlands page! Green Drinks is an informal international networking initiative to connect environmentally minded people and professionals. Our chapter welcomes anyone from the Laural Highlands region. Many of our events are hosted in Johnstown, PA, though they can be hosted in surrounding towns, as well.
Typically we have a community group, non-profit or business host a monthly event. Often times the host group selects a local "green" or "sustainable" community project to sponsor by collecting optional donations at the door. Past events have helped fund: LIFT Johnstown recreational trail development, a green roof at ArtWorks, Save our Steeples Project to reuse and revitalize three churches into arts and entertainment venues, to name a few.
We hope to see you at our social events!
2014 Events:
August Social
Thursday, August 21

5 - 7 PM
Featuring: Conemaugh Valley Conservancy's Stream Team is partnering with Loyalhanna Watershed Association to offer this "Green Drinks" event, and an opportunity to learn about the impact these two organizations have on regional sustainability.
209 W. Main St.
Ligonier, PA 15658
724-238-2123
A cash bar will be provided
Bowling and open mic night following the event
Hosts: Kiski-Conemaugh Stream Team and Loyalhanna Watershed Association
--------------------
September Social
Date TBD

5-7pm
Featuring: Greater Prospect Store (GPS) Coop, a community-building cooperative providing fresh, local food based in a 4,000 sq.ft. green building striving for LEED certification
Pour on Center Gastropub
102 S. Center St.
Ebensburg, PA 15931
814-472-4601
Hosts: Natural Biodiversity, LIFT Johnstown & Green Building Alliance -- Laurel Highlands Branch
--------------------
October Social
Wednesday, October 29

7 - 9 PM
Featuring: Social networking and speaker series focused on water quality funding opportunities.

TBD
Hosts: Laurel Highlands Conservation Coalition, Natural Biodiversity
--------------------
Stay tuned for future events . . .

--------------------
Would you like to be added to our mailing list? Interested in hosting a Laurel Highlands Green Drinks?
Contact nbd_staff@naturalbiodiversity.org
Thank you.
Laurel Highlands Green Drinks organizers