Crystal Lake Green Drinks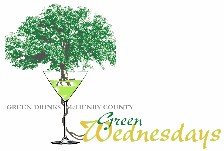 In McHenry County, the first Wednesday of each month is Green Wednesday!
Our next gathering is May 3rd, from 5PM - 7PM
Brad Woodson, Natural Resource Manager at the McHenry County Conservation District will speak about the Agricultural programs at the District that use Best Management practices and encourage the protection of the flora, fauna and soils of the publicly held lands.
2017 SCHEDULE - Tentative
JUNE - A program on ticks...details coming soon!
JULY - TBD
August 3, 2017 - David Christensen, Director of MC Emergency Management Agency, will be speaking on Climate Disruption Preparedness based on the brand new McHenry County Natural Hazard Mitigation Plan. He'll focus on such things as protection of our watersheds in order to mitigate problems associated with droughts and flooding.
---
Join us at Duke's Alehouse & Kitchen, 110 N Main Street in Crystal Lake. Head upstairs at Duke's for info and inspiration, business and pleasure. Come talk about "greening" the future with others. Must be 21 to purchase alcohol - non-alcoholic drinks are available, of course!
We have an information table set up, and you are welcome to bring information about your green products and services each month to share.
Additional parking is available at the train station.
Contact us at: GreenDrinksMC@gmail.com or find us on FaceBook
Green Drinks is sponsored by the Environmental Defenders of McHenry County
and Duke's Alehouse & Kitchen.
Privacy Policy: Your contact information will only be used to notify you of Green Drinks events or updates. It will not be sold or disclosed to third parties without your consent.
- Founded in North London in 1989, Green Drinks is now active in over 600 cities worldwide. -