Crystal Lake Green Drinks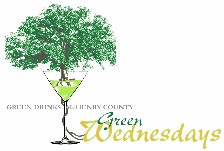 In McHenry County, the first Wednesday of each month is Green Wednesday!
Our next GreenDrinks gathering is November 1
5PM - 7PM
The owners of Alden Hills Farm located near Walworth, WI and a supplier for Duke's Alehouse & Kitchen will be our guests! Their Organic farm focuses on the soil up to provide the healthiest and highest quality pasture raised products. We hope to learn what that means to you and your family.
---
Join us at Duke's Alehouse & Kitchen, 110 N Main Street in Crystal Lake. Head upstairs at Duke's for info and inspiration, business and pleasure. Come talk about "greening" the future with others. Must be 21 to purchase alcohol - non-alcoholic drinks are available, of course! Chef Zak always has a special complimentary hors d'oeuvre.
We have an information table set up and you are welcome to bring information about your green products and services each month to share.
Additional parking is available at the train station.
Contact us at: GreenDrinksMC@gmail.com or find us on FaceBook
Green Drinks is sponsored by the Environmental Defenders of McHenry County
and Duke's Alehouse & Kitchen.
Privacy Policy: Your contact information will only be used to notify you of Green Drinks events or updates. It will not be sold or disclosed to third parties without your consent.
- Founded in North London in 1989, Green Drinks is now active in over 600 cities worldwide. -