York Green Drinks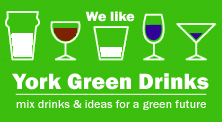 Welcome to an informal social event for anyone working or interested in the environmental sector – business, education, NGOs, the public sector and campaigning. Meet new people, discuss ideas and share good green banter in a relaxed environment.
Next tipple due: Thursday 21st November 5:30-9:30pm
Venue: Ye Olde Starre Inn, Stonegate
Come and stay for as long or as little time as you want, there will be a friendly welcome and interesting people to meet. At around 8pm local Friends of the Earth will do a short talk on the issues of fracking and its impact on York and the region (you can hear even more at this free event on 30th November).
We may well stay on until much after 9:30pm... The pub has reasonable level access and accessible toilets.
This evening will be hosted by Ivana from St Nicks Environment Centre. Currently York Green Drinks has no regular host to organise monthly meetings so they may not happen every month. If YOU would like to host the next one, PLEASE get in touch - all that is required is confirming the booking with the pub and actually being there on the particular night to welcome people.
For more info & to be added on our email reminder list, please contact greendrinksyork@googlemail.com or find 'York Green Drinks' on Facebook.