York Green Drinks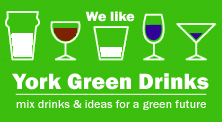 Welcome to an informal social event for anyone working or interested in environmental issues in York area. Every third Thursday in the month you can meet new people, discuss ideas and share good banter in a relaxed atmosphere. The event has no political party affiliations.
Next tipple due: Thursday 18th DECEMBER 2014, 6-9:30pm
Venue: Ye Olde Starre Inn, Stonegate
On 18th December, we have our last Green Drinks of the year, and this time we have a potentially life-changing presentation from 7:30pm!
Delton Jackson has a passion for new ways of living and working, studied 'intentional communities', and has a vision of something amazing happening not too far from York.
He is looking for expressions of interest for a proposed Community Land Trust co-housing scheme in the Yorkshire Dales - a unique development offering affordable housing, business and sustainable lifestyle opportunities.
The project will include reuse of historic buildings and landscape, creation of a complementary business cluster, together with sustainable housing, including opportunities for self-build.
Its purpose will be to offer possibilities to create and enjoy a full life dedicated to well-being and prosperity.
Please join Delton for an informal presentation starting at 7.30pm followed by discussion. Do share this event with anyone you know who has a genuine interest in such a project.
Anyone is welcome at York Green Drinks. We may well stay on until after 9:30pm but cannot guarantee it. The pub has reasonable level access and accessible toilets. If YOU would like to do a short presentation or lead a discussion on a particular issue at this or another future event, please get in touch.
For more info & to be added on our email reminder list, please contact greendrinksyork@googlemail.com or find 'York Green Drinks' on Facebook.