York Green Drinks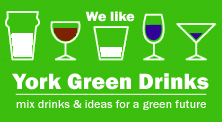 Welcome to an informal social event for anyone working or interested in environmental issues in York area. Every third Thursday in the month you can meet new people, discuss ideas and share good banter in a relaxed atmosphere. The event has no political party affiliations.
Next tipple due: Thursday 16th April 2015, 6-9:30pm
Venue: Ye Olde Starre Inn, Stonegate
From 7.30pm Ivana Jakubkova from St Nicks will offer a brief talk about the Climate Coalition and its planned climate lobby of the newly elected members of parliament on 17th June. Climate change is wreaking havoc on the planet and threatens humanity's survival - let's show our political representatives that people in York care! Pop along to the talk or get in touch if you'd like to join the day of climate action in London.
Want York Green Drinks to continue? Let us know!
The current hosts Ivana & John would much appreciate it if you could take this short survey and let us know what you think about Green Drinks. We need to know whether you'd like this fine institution to continue and the survey will help us ascertain how to improve it if you do.
Anyone is welcome at York Green Drinks. We may well stay on until after 9:30pm but cannot guarantee it. The pub has reasonable level access and accessible toilets. If YOU would like to do a short presentation or lead a discussion on a particular issue at this or another future event, please get in touch.
For more info & to be added on our email reminder list, please contact greendrinksyork@googlemail.com or find 'York Green Drinks' on Facebook.