York Green Drinks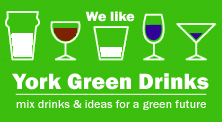 Welcome to an informal social event for anyone working or interested in environmental issues in York area. Every third Thursday in the month you can meet new people, discuss ideas and share good banter in a relaxed atmosphere. The event has no political party affiliations.
Next tipple due: Thursday 15th JANUARY 2015, 6-9:30pm
Venue: Ye Olde Starre Inn, Stonegate
Come and share your green interests/questions/projects for 2015 - you may find sources of advice, willing helpers or at least people happy to listen. From 7:30pm we'll have members of the YorSpace group sharing their plans for converting a former elderly people's home in York into a co-housing scheme.
In February we are planning to have a talk on the Transatlantic Trade and Investment Partnership, and why it spells bad news for everyone except very few.
Anyone is welcome at York Green Drinks. We may well stay on until after 9:30pm but cannot guarantee it. The pub has reasonable level access and accessible toilets. If YOU would like to do a short presentation or lead a discussion on a particular issue at this or another future event, please get in touch.
For more info & to be added on our email reminder list, please contact greendrinksyork@googlemail.com or find 'York Green Drinks' on Facebook.