York Green Drinks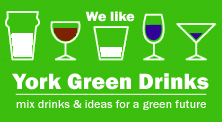 Welcome to an informal social event for anyone working or interested in environmental issues in York area. Every third Thursday in the month you can meet new people, discuss ideas and share good banter in a relaxed atmosphere. The event has no political party affiliations.

Next tipple due: Thursday 18th SEPTEMBER 6-9:30pm
Venue: Ye Olde Starre Inn, Stonegate
Come and stay for as long or as little time as you want, there will be a friendly welcome and interesting people to meet. From 7:30pm there will be a short talk by Randall Ghent:

The Almost All LED House
Randall Ghent will provide an introduction to LED lighting and explain where, when and how to make the switch to LED from fluorescent, incandescent and halogen lighting. He will focus on the LED lighting he has installed in his house in York, largely on-grid but also as part of a small off-grid solar power system. Randall will also discuss the LED systems that he installed when serving as project manager for £80,000 in energy-efficiency installations for the train operating company East Coast. Randall will provide informational hand-outs and LED bulb samples will be available to view.
We may well stay on until much after 9:30pm but cannot guarantee it. The pub has reasonable level access and accessible toilets. The evening will be hosted by Ivana from St Nicks. If YOU would like to do a short presentation or lead a discussion on a particular issue at this or another future event, please get in touch.

For more info & to be added on our email reminder list, please contact greendrinksyork@googlemail.com or find 'York Green Drinks' on Facebook.