Leeds Green Drinks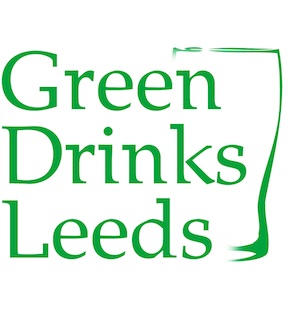 Think Green? Drink Green!
Green Drinks Leeds is on the 4th Wednesday of every month, with monthly events including talks, panel discussions, workshops and visits
INTRO
Green Drinks Leeds is for everyone working in and around the environment in Leeds and the surrounding area.

Whatever your perspective - business, community or government, academic, student or activist - Green Drinks is a great way to make new contacts, catch up with friends or just hang out with people who share your values.
We're a lively group, so pop down for a quick drink after work or stick around for the evening and enjoy the conversation. We open at 6pm for open networking, and the main event usually begins around 7 to 7.30pm
EVENTS
The Waiting Rooms, 11 Mill Hill LS1 5DQ
We're back on Air Pollution this month, with Polly Cook from Leeds City Council on the Council's consultation on a Clean Air Zone.
We're also back at the former Baht'ap, now The Waiting Rooms, in its new bigger back room
Leeds City Council is currently consulting on its clean air zone so Polly will be providing an overview on the council's proposal and its analysis. This is an opportunity to ask questions to understand the proposal better and to provide your input before the consultation closes.

Polly leads the Cutting Carbon and Improving Air Quality Breakthrough programme for the Council, which delivers projects including the air quality proposal and associated early measures, district heating, alternative fuel station, White Rose Energy, solar PV etc.
Wednesday 28 March - TBC
Wednesday 26 April - Species walk: Meanwood Park
In April, we will be out and about on a species walk in Meanwood Park with Ecologist Katy Hockridge
STAY IN TOUCH
(updated 13 February 2018)