Leeds Green Drinks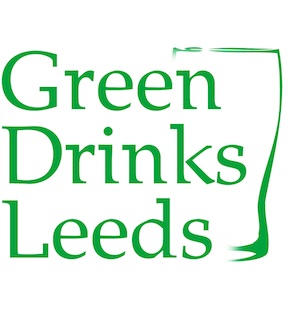 Think Green? Drink Green!
Green Drinks Leeds is on the 4th Wednesday of every month at The Black Prince on City Square, with monthly events including talks, panel discussions, workshops and visits
INTRO
Green Drinks Leeds is for everyone working in and around the environment in Leeds and the surrounding area.

Whatever your perspective - business, community or government, academic, student or activist - Green Drinks is a great way to make new contacts, catch up with friends or just hang out with people who share your values.
We're a lively and growing group, so pop down for a quick drink after work or stick around for the evening and enjoy the conversation. We open at 6pm for open networking, and the main event usually begins around 7 to 7.30pm
EVENTS
The Black Prince, 40 Boar Lane, Leeds LS1 5DA
Do we live in a healthy world?

What would a healthy world look like?

Is our present economic system pathological?

Is modelling and developing a healthy economy human being's next task?
Join us this month, when we welcome Chris Bem, who will be exploring the parameters of a healthy economy, since without a healthy economy, we, humans are surely going nowhere. But is the obese, money-ordered economy of today really the way to a healthy world or is there a different way of doing economics? Money is not the bottom line. Money is the tool, and neither the goal nor the resource. Is our money-orientated economy really taking us to the promised land or is money becoming an anomaly, a has-been? Indeed is our pursuit of money causing dis-ease to our relationships with each other, to our own physical and mental health and to our human habitat?
Chris Bem works as a surgeon in Bradford, lives in north Leeds, has spent eight years in Africa, two years in India, has a degree in public health, is part of the Permaculture Network and Schumacher North, stood in the recent council elections as a Green Candidate, and for years been trying to understand the anomalies, contradictions, pathologies and schizophrenias of contemporary economics.
As usual, we'll be open from 6pm for open networking or a quick after work drink, we will set off on the walk at 7pm, and return to The Black Prince for drinks and discussion
Wednesday 23 September - Musings on the Aral Sea, Kazakhstan, by an artist who has paddled in its waters
In September, we'll be welcoming back Carla Moss, who was unable to present in June due to illness. She will be talking about what the UN Secretary General Ban Ki-Moon described as the worst environmental disasters in the world.
Wednesday 21 October - Greening IT at First Direct
We hope to be hearing from Andy Rontree at Leeds-based First Direct on how they are reducing the environmental impact of their IT systems, and acting as an exemplar for the rest of the HSBC Group
Wednesday 25 November - Cohousing with ShangriLeeds
In November, we hope to be hearing about the ShangriLeeds project to build a new cohousing development in Leeds, what the challenges are for collective and sustainable living in the city
STAY IN TOUCH
(updated 5 August 2015)