Leeds Green Drinks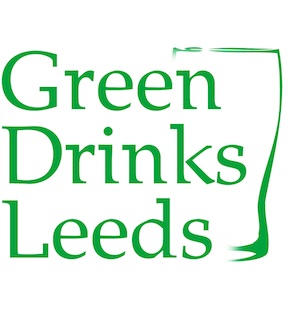 Think Green? Drink Green!
Green Drinks Leeds is on the 4th Wednesday of every month, with monthly events including talks, panel discussions, workshops and visits
INTRO
Green Drinks Leeds is for everyone working in and around the environment in Leeds and the surrounding area.

Whatever your perspective - business, community or government, academic, student or activist - Green Drinks is a great way to make new contacts, catch up with friends or just hang out with people who share your values.
We're a lively group, so pop down for a quick drink after work or stick around for the evening and enjoy the conversation. We open at 6pm for open networking, and the main event usually begins around 7 to 7.30pm
EVENTS
This month, we welcome Katherine Navarrete, who will be talking about the ways climate change impacts Chile and UK, and the different approaches used by their governments to deal with the problem
Katherine Navarrete is a Natural Resources Engineer, working in the Division of Renewable Energy of Ministry of Energy in Chile, and is currently studying for an MSc in Climate Change and Environmental Policy in the University of Leeds
We are again at The Black Prince, one of our former venues which came to our aid when Baht'ap closed suddenly last month, and would like to know your thoughts about returning to this venue
Please sign up on Eventbrite so we know you're coming
Wednesday 22 November - We need to talk about air pollution (Part 2)
After September's event on air pollution, we will again be welcoming Polly Cook from Leeds City Council, who will elaborate more on the proposals they have been developing to tackle Leeds' air pollution problem
Wednesday 24 January - Alternative Fuels for Commercial Vehicles (with CILT)
For our first event of 2018, we will be partnering with The Chartered Institute of Logistics & Transport (UK) and hearing from Green Drinks Leeds co-organiser Alexis Keech of Yorkshire Ambulance Service, who will be discussing their trial of electric vehicles and their strategy for using sustainable hydrogen
STAY IN TOUCH
(updated 17 October 2017)