Leeds Green Drinks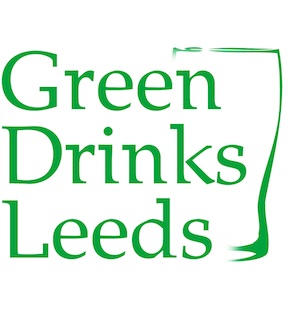 Think Green? Drink Green!
Green Drinks Leeds is on the 4th Wednesday of every month, with monthly events including talks, panel discussions, workshops and visits
INTRO
Green Drinks Leeds is for everyone working in and around the environment in Leeds and the surrounding area.

Whatever your perspective - business, community or government, academic, student or activist - Green Drinks is a great way to make new contacts, catch up with friends or just hang out with people who share your values.
We're a lively and growing group, so pop down for a quick drink after work or stick around for the evening and enjoy the conversation. We open at 6pm for open networking, and the main event usually begins around 7 to 7.30pm
EVENTS
Wednesday 29 October - Green Projects in Leeds
Crowd of Favours, Harper Street, Leeds LS2 7EA
please note, we're on the 5th Wednesday this month
Come along and showcase your green project in Leeds. All projects that promote sustainable lifestyle and living are welcome – food growing campaigns, sustainable transport, fuel poverty, recycling, energy, new technologies, cycle routes, community projects etc

Drop Alexis (alexis.keech@yas.nhs.uk) a line with details of your project (one slide's information) and come along on the 29th to share with the green community what your project is, what you hope to achieve, how you are progressing, what resources you need. If you can't make it, send us your details anyway and we will show it to Green Drinks Leeds on your behalf.

Wednesday 26 November - Leeds Empties
We're hoping to welcome Rob Greenland from Leeds Empties for our November event, delayed from October, and we are lining up speakers and talks for early 2015 as we speak
STAY IN TOUCH
(updated 20 October 2014)