Leeds Green Drinks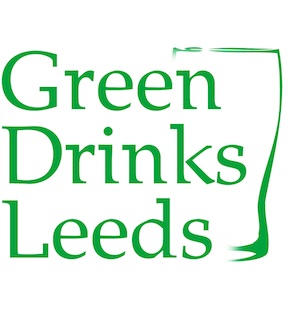 Think Green? Drink Green!

Green Drinks Leeds is on the 4th Tuesday of every month, with monthly events including talks, panel discussions, workshops and visits
INTRO
Green Drinks Leeds is for everyone working in and around the environment in Leeds and the surrounding area.

Whatever your perspective - business, community or government, academic, student or activist - Green Drinks is a great way to make new contacts, catch up with friends or just hang out with people who share your values.
We're a lively and growing group, so pop down for a quick drink after work or stick around for the evening and enjoy the conversation. We open at 6pm for open networking, and the main event usually begins around 7 to 7.30pm
EVENTS
Tuesday 22 April - Eco-fair: Behind the scenes
Outlaws Yacht Club, 38 New York Street, Leeds LS2 7DY

Eco-Fair
is an annual business expo which takes place in Leeds.
This year 1,000 delegates will attend on the 22nd May.
80% will go away from the show inspired to make changes in their business.
Five years ago, this event only existed as an untested concept. Find out how the event was started, how we make it work, and what is lined up for in this years' programme. We'll cover creating a vision, partnership working, marketing and how to come up with a commercial offer.
Sam Saxby is the driving force behind Eco-Fair. She has been working on environmental support programs for businesses for eight years. She has an undergraduate degree in Ecology and a Postgraduate Certificate in Sustainable Waste Management. Sam is on the local IEMA (Institute of Environmental Management and Assessment) Steering Group. She doesn't leave Bradford as much as she should, so let's give her a good Green Drinks welcome in Leeds.
Following really positive feedback last month, we'll again be at Outlaws Yacht Club on New York Street. Green Drinkers last month enjoyed the venue's laid back vibe, and locally sourced beer, coffee and food - and if you didn't come down last month, we hope you will too.
As usual, we encourage you to sign up on Eventbrite

Tuesday 27 May - CityConnect Cycle Superhighway
For May, we're pleased to welcome Alison Pilling from Metro, who will be talking to us about the CityConnect Cycle Superhighway proposed between East Leeds and Bradford City Centre.
Tuesday 24 June - Leeds Empties
In June, we'll welcome Rob Greenland from The Social Biz, who'll be talking to us about his work with Leeds Empties, bringing empty homes in Leeds back into use
Desperate to share your Green Story or Success?
We'd love to hear from you if you have an idea for a future Green Drinks, or just want to share with other people the things you've been doing. With over 650 people on our mailing list, plus followers on social media, it's a great opportunity to promote what you've been doing to a wide and varied audience
WHAT HAPPENS AT GREEN DRINKS LEEDS?
Green Drinks Leeds is part of a global network of over 650 monthly events worldwide, but all have their own "local flavour"

At Green Drinks Leeds you can expect
from 6pm Open Networking - at the start of the evening the floor is open to meet and greet other Green Drinkers
from around 7 - 7.30pm A talk, workshop or other activity - Alexis and Anzir will introduce a speaker or panel who will talk about their work or a topic of interest, followed by questions and answers
The Talk Around - a chance to introduce yourself to everyone, and discover interesting and relevant people to talk to for the rest of the evening
Informal Chat etc. until home time...
Feel free to drop in or out - whether you're over for a cheeky quick drink after work or here to chat and network for the whole evening, you're welcome.
GET CONNECTED
For all the latest on Green Drinks Leeds, join our mailing list
Our website also has information on past and upcoming events
LinkedIn users can connect with us on the Green Drinks Leeds Group
We're also on Facebook and Google+, and if you tweet, tag your posts with #greendrinksleeds
CO-ORDINATORS
Green Drinks Leeds has two co-ordinators:
Anzir Boodoo is a PhD student at The Institute for Transport Studies, Leeds. He also works with Transition City Leeds, Carfree UK and the Chartered Institute of Logistics and Transport (UK) on transport and environmental issues.
Alexis Keech is the Environmental and Sustainability Manager for Yorkshire Ambulance Service NHS Trust. She has also worked with Arcadis, EarthTech (Australia), BWB and is on the Board of Trustees for REAP (Roundhay Environmental Action Project).

(last updated 2 April 2014)