Leeds Green Drinks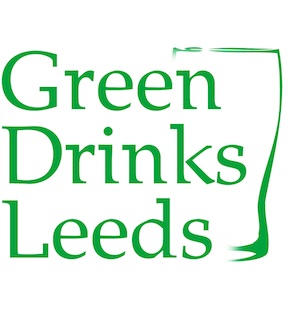 Think Green? Drink Green!
Green Drinks Leeds is on the 4th Wednesday of every month, with monthly events including talks, panel discussions, workshops and visits
INTRO
Green Drinks Leeds is for everyone working in and around the environment in Leeds and the surrounding area.

Whatever your perspective - business, community or government, academic, student or activist - Green Drinks is a great way to make new contacts, catch up with friends or just hang out with people who share your values.
We're a lively group, so pop down for a quick drink after work or stick around for the evening and enjoy the conversation. We open at 6pm for open networking, and the main event usually begins around 7 to 7.30pm
EVENTS
Baht'ap, 11 Mill Hill, Leeds LS1 5DQ
Following up on January's sell-out discussion of the South Bank, we have two joint events with IEMA (The Institute of Environmental Management & Assessment). First up, Colin Robertson will be introducing us to The Climate Reality Project
In 2006, Nobel Laureate and former US Vice President Al Gore got the world talking about climate change with the Academy Award-winning film An Inconvenient Truth.

It was just the beginning of a climate revolution, and later that year, he founded The Climate Reality Project to move the conversation forward and turn awareness into action.

The Climate Reality Project is a diverse group of passionate individuals who have come together to solve the greatest challenge of our time.

This presentation will provide a global perspective of the impacts of climate change and what we can do to support the shift to clean, renewable energy and also a chance to find out more about the Climate Reality Project and training.
Colin Robertson is a Full Member of IEMA and Chartered Environmentalist who has worked for 15 years in sustainability and the environment within businesses in Yorkshire and Humber. In July 2015 he became a trained Climate Reality Leader in Toronto Canada, joining a global corps of passionate individuals who aim to turn awareness of climate change into action.
We hope you can join us, by signing up via Eventbrite
In March, we continue our tie-in with IEMA, and also welcome Women in Sustainable Construction and Property, to take a look at the future of leadership in sustainability
The world is changing rapidly with world leaders making significant commitments to a very different future from the world we live in today. Attend this session to literally glimpse this future and to understand the shift required from all leaders to embrace it. In this engaging workshop, Clive Wilson will take you on a thought journey to the year 2030 and will provide a comprehensive, tangible and compelling picture of what the world will be like. He will ask what commitments you and your organisation need to make to be relevant and leaders in this exciting new world.
Clive is the author of "Designing the Purposeful Organisation - 'how to inspire business performance beyond boundaries'. He is a Director at leadership development consultancy Primeast, and Chair of the United Nations Association in Harrogate. He has been facilitating leadership development and alignment with Primeast for 16 years since his 27 year career in the electricity industry. He has a passion for engaging audiences in Purposeful Leadership
as usual, please sign up on Eventbrite
STAY IN TOUCH
(updated 2 February 2017)