Worthing Green Drinks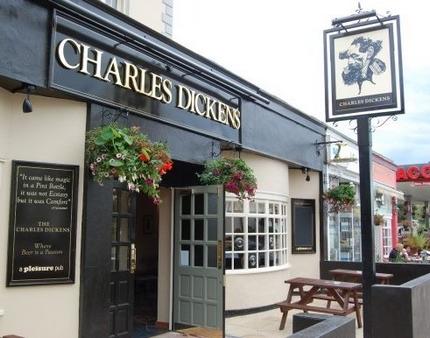 NEXT MEETING:

CANCELLED, at our venue:
The Charles Dickens Pub
56-58 Heene Road
Worthing BN11 3RG
http://charlesdickenspub.co.uk/
We will be in the cosy, lounge section located at the front right of the pub.
IMPORTANT NOTICE:
Unfortunately, due to a lack of numbers at recent events, we are temporarily cancelling Green Drinks.

It would be fantastic to run a regular green social in Worthing, but we need bodies - we need you! We've held it on a Sunday for the last year and that doesn't seem to be working so there is the potential to return it on a weekday, perhaps Tuesday or Wednesday evening.

I would welcome your thoughts on this, as it seems a terrible shame to knock it on the head completely. What would attract you? Would you prefer more of a meeting format or debate with a monthly theme? A speaker? Reading? Different venue? Please email worthinggreendrinks@gmail.com with your ideas if you'd like to save Green Drinks.
Worthing Green Drinks 2012 Dates

| | | |
| --- | --- | --- |
| May | 20th | Charles Dickens Pub, 7-9pm |
| June | 17th | CANCELLED |
| July | 15th | CANCELLED |
| Aug | 19th | CANCELLED |
The gatherings take place every 3RD SUNDAY of the month.
Worthing Green Drinks
Worthing Green Social (WGS) evolved in 2011 taking its place under the umbrella that is Transition Town Worthing (TTW) - visit http://transitiontownworthing.ning.com for more information.

We have re-launched Worthing Green Drinks independently for 2012 and hope to revive it to its former glory!
This is an informal, non-agenda get-together for anyone will an interest in "green" and/or community issues; from fair trade, organic and recycling to peak oil, growing-your-own, sustainability and renewables. It's also for anyone who'd like to find out about what's going on locally and meet some new people in the town!
Bring your ideas for a drink in our friendly local! Greenpeace, FoE, Woodland Trust, Greening Campaign, other TTs, Cycling Forum, local politicians and councillors etc, are all welcome.
The pub does not usually cater on Sunday evenings so landlord Malcolm had very kindly said we can provide our own nibbles for this event! Please feel free to bring some "eco-friendly" snacks (preferably vegetarian, using locally sourced, organic and fairly traded produce).
We may occasionally hold 'Themed Drinks' with speakers, demonstrations or films on various topics including ethical shopping and finance, 'green outdoors' (organic gardening, composting, allotments etc), complimentary therapies, to name a few...
Green Drinks' primary role is to provide a monthly opportunity for a relaxed mingle. That said, anyone who fancies organising something particular is very welcome to do so! Please get in touch via: worthinggreendrinks@gmail.com.
ADDITIONAL INFO
There are plenty of lamp-posts to lock bikes nearby and there's free parking outside and along the seafront. Check http://www.traveline.org.uk/index.htm for public transport options.
If you'd like any more information or to be added to the email update list (to receive details of future socials plus other local events), contact us at worthinggreendrinks@gmail.com Otherwise, just turn up on the night.
See you there!