Friday Harbor Green Drinks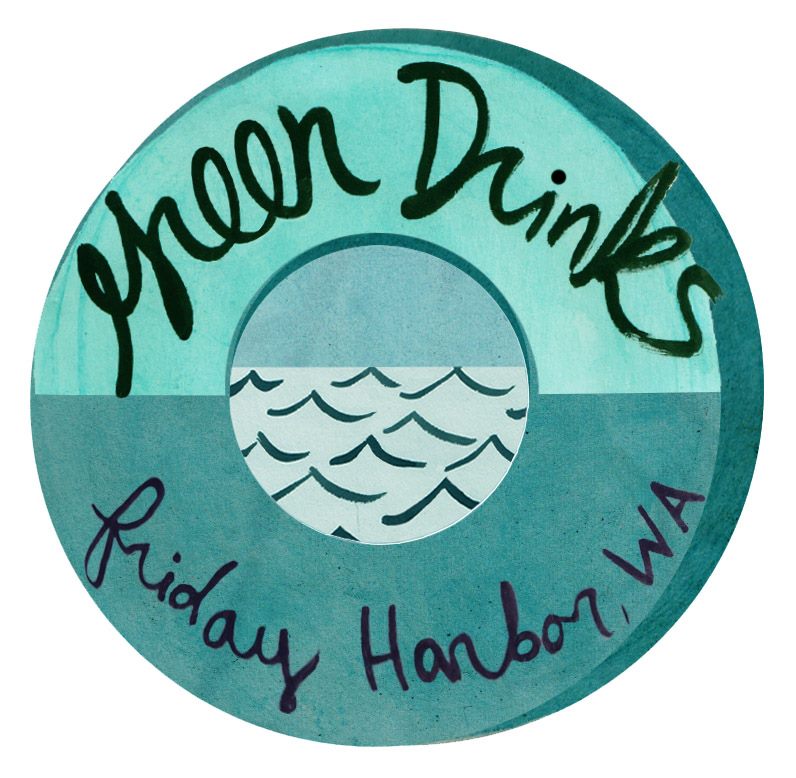 FRIDAY HARBOR GREEN DRINKS!
Hello Green Drinks Friends!
If you would like to be on the monthly email list for this event, contact kelseyleighgreen@gmail.com.
A big thank you to Eric Bienenstock, owner of The Bean for hosting and fully sponsoring last month's Green Drinks! We had around 60 people and enjoyed wine and live music by the super talented Jesse Berube and John Bellows. Check out Jesse's website which showcases the handmade instruments he was playing at the event: www.wavesung.com. If you'd be interested in booking these fine chaps they can be contacted at: johnbellows@gmail.com or
wavesung@gmail.com.
We've got a super fun new venue for March's Green Drinks! Have you heard a rumor about a new brewery that opened up behind the Firefighter's thrift shop? It's true! Mike Close and Bob Williams of Friday Harbor Brewing Company have recently opened the Brew House Tasting Room.
Mike and Bob are currently using a half barrel brew system with the intention to brew as many styles as possible and allow guests to sample a wide variety of beers. They have designed their tasting room in the style of a pub, for people to meet up and enjoy a pint while socializing over darts or board games. Come check out this space, learn more about Mike and Bob's vision for their brewery and support this new venture! There will be small selection of beers on offer for purchase at $5 a pint. Cash or card is accepted. Non alcoholic options will also be available.
To get there, turn off Mullis St into the driveway of the Friday Harbor Thrift Shop, and continue straight through to Friday Harbor Marine shop. Park anywhere in the lot and head straight into the door of the building.
*Note Time Change* We are changing the time of Green Drinks to 5:30 - 7:30pm (vs. 5:00 - 7:00pm). This was decided by vote at the last event and is to allow folks time to make it over from their workplaces and the shift to spring/ summer. (Yay!)
Announcements are a new addition to our events and are a great way to let people know what's going on in the community! A few details:
With the time change, announcements will now be around 6:45pm.

Your announcement/ event needs to be relevant, respectful and open to everyone.

Announcements need to be short and sweet to make sure we have time for all!

Bring a flyer or a way for people to get a hold of you (business cards, etc) if they are interested in following up. This email list will not be used for anything but the twice monthly Green Drinks emails.
In summary, March's Thirsty Third Thursday is:
Thursday, March 16th,
- 7:30pm
665 B Mullis Street, in Friday Harbor Marine
Follow us!
This monthly email list - shoot me an email to sign up if you were forwarded!

Instagram @GreenDrinksFH

www.greendrinks.or
Please recognize that by attending, photos maybe be taken and utilized on any of the above media
Try to keep chat positive and solution-oriented please! Remember that we are an all-inclusive group.

Looking ahead - Upcoming Green Drinks

Thursday, April 20th, 5:30 - 9:00pm - GREEN DRINKS TWO YEAR BIRTHDAY PARTY AND EARTH DAY CELEBRATION!
** EXTENDED HOURS **
MEGA CELEBRATION - STAY TUNED!
Brickworks
Thursday, May 18th, 5:30 - 7:30pm
Thanks, and see you at a Green Drinks soon!

Cheers,
Kelsey
*The world-famous Green Drinks is an international, unstructured, self-organizing network of environmental folks or those interested in getting involved. Friday Harbor's Green Drinks
​ ​
was established in spring 2015 and has been growing! We have a great mix of non-profit organizations, local government, academia, agricultural producers, local business, kayak companies, whale community, Friday Harbor Labs, general community and even a few passerby! Always the Third
​ ​
Thursday of the month (Thirsty Third Thursday!). Join us at this month's spot for a drink and some good chat. All are welcome!* www.greendrinks.org