Friday Harbor Green Drinks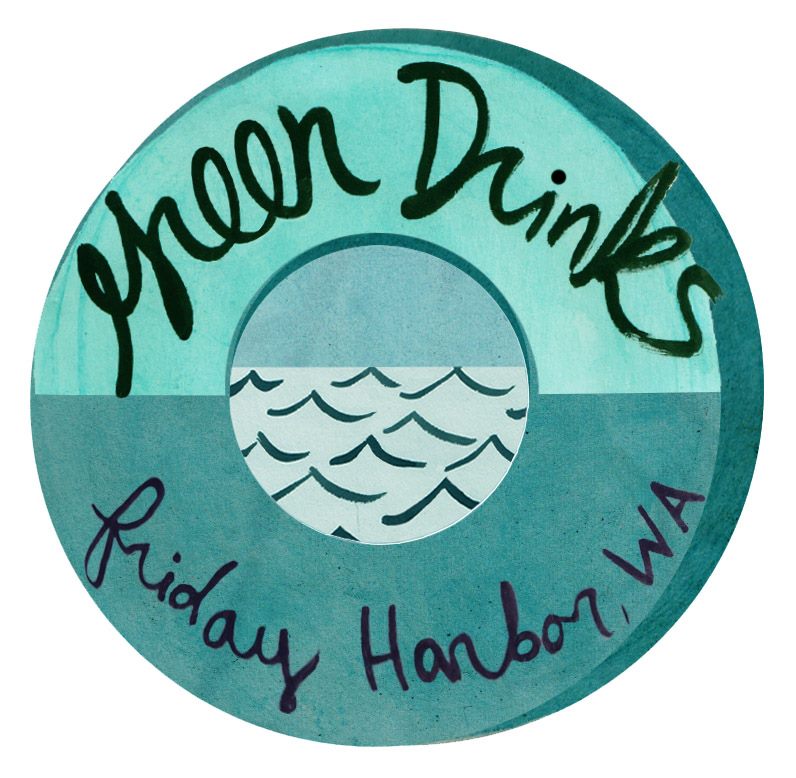 FRIDAY HARBOR GREEN DRINKS!
Hi Green Drinks friends!

Hope everyone is enjoying the season and has left a wee space in their busy summer schedules for our monthly ​Third Thursday ​meet up! Despite the rain, we had an excellent gathering at San Juan Vineyards last month in the winery. Thanks again to Chris, Yvonne and Andrew for another great event out there.They have a lovely tasting room, so take all your summer visitors to swill some wine. www.sanjuanvineyards.com​
I also want to give a shout out to everyone that has been making announcements about important stuff in our community (and to our poem reader!). These ​have been very informative, heartfelt and good way to connect up​. If you have an event or action that you are involved in, this is a good time to let other folks know about it. ​These start around 6:45pm; remember to keep it relatively short and sweet​, and bring a way for people to follow up with you (flyer, business card, etc). ​A​ friendly reminder that ​this is a protected list only for Green Drinks info and I'm ​not willing to send any announcements through ​it, ​even for the really really good stuff ​(your inbox thanks me I promise).
Ok! On to July! Have you ever eaten a spicy ramen bowl with bulgogi ​while watching planes take off and land at Ernie's​ Cafe​? I HAVE and it's fantastic! If you don't know of this rad local lunch spot you are for sure missing out. Ernie's is kind enough to host our July event​, and we are also very lucky to have a private sponsor for this one! No ramen for the event, but come drink some wine or a non alcoholic beverage​ in this super cool spot and ​watch the planes with your Green Drinks buddies. ​If you don't know where this is, just take the road as if you're heading to the airport, and hang the first left.
In summary, ​​July's Thirsty Third Thursday is:
​
Thursday, July 20th ​
5:30 - 7:30pm
Announcements around 6:45pm
744 Airport Cir Dr, Friday Harbor, WA 98250
Follow us!
This monthly email list - shoot me an email to sign up if you were forwarded!
Please recognize that by attending, photos/video may be taken and utilized on any of the above media​.
Try to keep chat positive and solution-oriented please! Remember that we are an all-inclusive group.

Looking ahead - Upcoming Green Drinks

Thursday, August 17th, 5:30 - 7:30pm ​
Returning to FHL R/V Centennial (this is super special one ON A BOAT - don't miss it!)

Thursday, September 21st 5:30 - 10:00​pm
​HARVEST PARTY! ​(Second chance to dance your butt off)
​Brickworks ​
Thanks, and see you at a Green Drinks soon!
Cheers,
Kelsey
*The world-famous Green Drinks is an international, unstructured, self-organizing network of environmental folks or those interested in getting involved. Friday Harbor's Green ​Drinks was ​established in spring 2015 and has been growing! We have a great mix of non-profit organizations, local government, academia, agricultural producers, local business, kayak companies, whale conservation community, Friday Harbor Labs, general community and even a few passerby! Always the Third Thursday of the month (Thirsty Third Thursday!). Join us at this month's spot for a drink and some good chat. All are welcome!*
www.greendrinks.org