Fort Worth Green Drinks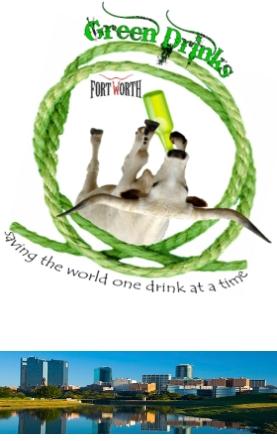 GreenDrinkers meet up to benefit the Leukemia and Lymphoma Society (LLS) at the Blue Mesa Grill.
Let's have happy hour and dinner with great people for a great cause!!
Katie Cooper, Alyssa Hilburn and Carolyn Crouch have coordinated a Community Night at Blue Mesa next week, Tuesday the 29th, to benefit the Leukemia and Lymphoma Society (LLS).

Here are the details:

When: January 29th, 5PM to close
Where: Blue Mesa Grill
1600 S University Dr
Fort Worth
(817) 332-6372
Who: All Friends and Family
Why: To have dinner with good people and support a great cause!

How It Works: All attendees must tell their server that they are there for TNT to have 20% of their check donated to LLS.

Please feel free to extend invitations to others, and thanks for helping us spread the word!!
Be part of history
Be part of progress
Be part of the Fort Worth Sustainability efforts!!!
Help keep Fort Worth on the cusp of implementing the Natural Cause efforts by attending our next gathering of many...
Fort Worth Contact: cherylmarchand @ sbcglobal.net
No cover charge.

Buy your own drinks.
No agenda.
Join us for the happy hour.
We can discuss future topics everyone would like to learn more about.
HAVE FUN and SHARE A SUSTAINABLE EXPERIENCE...
The Fort Worth GreenDrinks group is growing exponentially !

  
  
Click to join FortWorthGreenDrinks