Fort Worth Green Drinks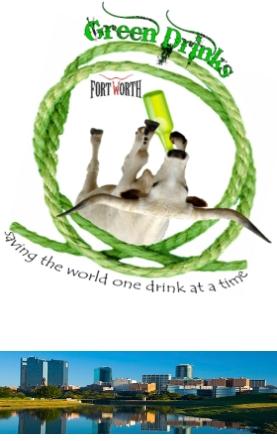 Due to Texas weather, our gathering at DeVivo Bros. Eatery is being postponed.
I will reschedule at this wonderful establishment soon.

when: TBD
time: 6:00pm
where:
750 S Main St
Keller, TX 76248
Phone number (817) 431-6890
This little locally owned restaurant is a BYOB establishment supporting local farms, so bring your own libations and an appetite. They have wonderful appetizers, meals and especially desserts in a low key atmosphere. There may even be entertainment on Friday night.
visit their facebook page and like them to support their cause

https://www.facebook.com/DeVivoBrosEatery


Please feel free to extend invitations to others, and thanks for helping us spread the word!!
Be part of history
Be part of progress
Be part of the Fort Worth Sustainability efforts!!!
Help keep Fort Worth on the cusp of implementing the Natural Cause efforts by attending our next gathering of many...
Fort Worth Contact: cherylmarchand @ sbcglobal.net
No cover charge.

Buy your own drinks.
No agenda.
Join us for the happy hour.
We can discuss future topics everyone would like to learn more about.
HAVE FUN and SHARE A SUSTAINABLE EXPERIENCE...
The Fort Worth GreenDrinks group is growing exponentially !

  
  
Click to join FortWorthGreenDrinks