Dallas Green Drinks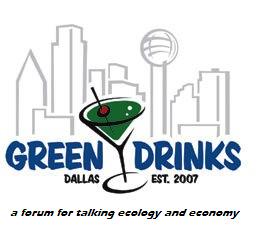 APRIL 2015 EVENTS:
Saturday, April 18, 4 - 6:30 p.m. "Get with the Planet: Five Awesome Talks on Stuff You Should Care About" (1) Good Water Business; (2) Healthy Work Environments & Green Buildings; (3) Urban Re-Wilding; (4) Urban Agriculture; (5) Sustainability and Planet Citizenship
Wednesday, April 29, 4 - 8 p.m. GreenBuzz at Ellen's Southern Kitchen in the historic West End of downtown Dallas! Come and support Ellen's makeover as a more eco-friendly restaurant in its new location.
-------------------------------------------------------------
Buy/bring your own drinks/meal, unless otherwise advised. Never a cover charge.
We're looking for sponsors and volunteers to scout locations, organize, work social media, and greet attendees at events.
Dallas Coordinator: Eduardo Hope, eduardohopejr@yahoo.com
We do not do ads or junk mail. Please visit us in Facebook.
IN PREVIOUS GATHERINGS (green links):