Dallas Green Drinks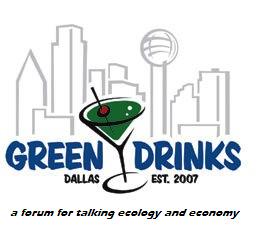 MONTE ANDERSON:
10 Years of Urbanism
& Social Impact Business
WED., OCT. 14 @ 7 P.M.
THE GROVE DALLAS COWORKING
501 Elm Place, Dallas, TX 75202
The Belmont Hotel is sold. So, what is Monte Anderson thinking these days after 10 years of urban development and ownership in south Dallas? Urban density, gentrification or 'gentle-fication', and social-impact enterprises are a few of the themes he will discuss with us. Join the conversation!
-------------------------------------------------------------
Buy/bring your own drinks/meal, unless otherwise advised. Never a cover charge.
We're looking for sponsors and volunteers to scout locations, organize, work social media, and greet attendees at events.
Dallas Coordinator: Eduardo Hope, eduardohopejr@yahoo.com
We do not do ads or junk mail. Please visit us in Facebook.
----------------------------------------------
IN PREVIOUS GATHERINGS (green links):