Dallas Green Drinks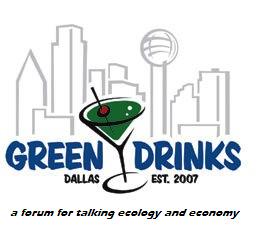 OCTOBER MIXER

-Wednesday, October 15th, 7 p.m.-
ALOFT Dallas Downtown Hotel @ Wxyz Bar & Lounge
1033 Young Street, Dallas 75202

-------------------------------------------------------------
We like to have our gatherings at locally owned establishments, especially if they recycle, but our favorite place the last couple of years has been the ALOFT Dallas Downtown Hotel Wxyz Bar/gathering area.
We are a happy-hour forum for people who want to exchange views on how business, the local economy, and ecological practices/sustainability can work together. We are part of an ecology-conscious, local-economy movement thriving in hundreds of cities around the world.
Join us for a casual chat, and bring some friends, too!
No cover charge; buy/bring your own drinks/meal, unless otherwise advised.
Dallas Coordinator: Eduardo Hope, eduardohopejr@yahoo.com
We do not do ads or junk mail. Please visit us in Facebook, too, and add us to your Twitter contacts-- @dallasgrndrinks.
IN PREVIOUS GATHERINGS (green links):
--------------------------------------------------------------------------------
In the News:
Pink Memo
December 2010 Eco-Chic Fashion Show
RSVP Calendar
July 2010 Wines that Care

Dallas Observer
October 2010 Carrotmob Expectations

October 2010 Carrotmob Results
Dallas Morning News

October 2010 Carrotmob Event

Pegasus News
Where Carrotmob and What it is?

December 2010 Eco-Chic Event

October 2010 LaGrange Energy Efficiency

October 2010 Carrotmob Event

Carrotmob Blog
http://dallas.carrotmob.org/

October 2010 Carrotmob Event