Ipswich Green Drinks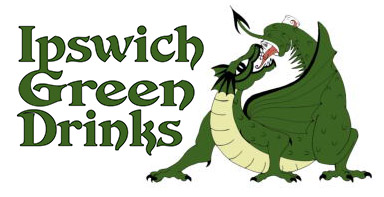 ...is on the Second Thursday of every month, starting at 8:00pm, at The Dove Inn, St Helens St, Ipswich, IP4 2LA [map]. Come along for a chat, a drink and a bit of networking with others working in, or interested in environment issues. Find us in the back room or, on warm evenings, in the marquees outside.
Dates for 2014: 11th Sep, 9th Oct, 13th Nov, 11th Dec, ...
9th Oct 2014 - A change from the normal pattern: Joint meeting with Cycle Ipswich

Start: 7.30pm At: Friends Meeting House, 39 Fonnereau Road, Ipswich. IP1 3JH
We will be joining Cycle Ipswich to help create a vision for cycling in Ipswich - see http://cycleipswich.wordpress.com/
When the Cycle Ipswich meeting finishes (around 9.30pm), we'll be heading over to The Dove Street Inn for a drink - if you can't make the Cycle Ipswich meeting, join us in the Dove afterwards.

If you like real ale, then there's lots of choice at The Dove, with some beers served from the barrels in the Tap Room and others by hand pump - see their latest list (there are ciders and foreign beers too). The Dove also serves tea and coffee.
Steve sends out a reminder email each month, which also contains news of local green events. If you'd like to receive these emails, please subscribe to the mailing list.
For more details contact Steve Pritchard on 07724 004272.
More information about what's happening in Ipswich at www.greenlivingcentre.org.uk

Ipswich Green Drinks, Jan 2011