Beaufort Green Drinks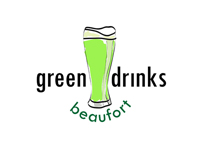 WHEN:
Always the third Tuesday of every month @ 5:30 PM - 7:30 PM. Wew have a great group of people come to our gatherings.
WHERE:
We rotate the locations of our gatherings each month and they range from bars and retaurants to photo studios and even a bicycle shop! We also have a speaker give a brief (10-20 minute) talk on a relevant topic every month. These subjects have ranged from murban chickens to cast netting to marine debris and clean marinas.
For up to the date information on our locations and speakers, please vist our Facebook page at:
https://www.facebook.com/GreenDrinksBeaufort
Also our website at: http://www.greendrinksbeaufort.com
AND to SUBSCRIBE to the electronic invite list for GreenDrinks Beaufort, email us at greendrinksbeaufort@gmail.com.
We welcome all newcomers.