Beaufort Green Drinks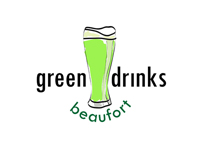 WHEN:
The third Tuesday of every month @ 5:30 PM - 7:30 PM
WHERE:
We rotate the locations of our gatherings each month and they range from bars and retaurants to photo studios and even a bicycle shop! We also have a speaker give a brief (10-20 minute) talk on a relevant topic.
For up to the date information on our locations and speakers, please vist our Facebook page at:
http://www.facebook.com/home.php#!/GreenDrinksBeaufort
Also our new website at: http://www.greendrinksbeaufort.com
AND to SUBSCRIBE to the electronic invite list for GreenDrinks Beaufort, email us at greendrinksbeaufort@gmail.com.
We welcome all newcomers.