Providence Green Drinks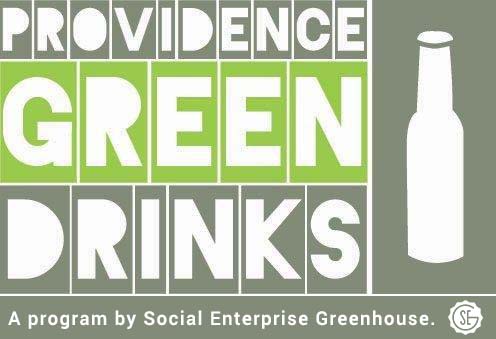 Providence Green Drinks -- Join others with similar values each month on "Thirsty Third Thursday" to share conversation, drinks, and food!
The gatherings attract several dozen people each month, including environmentally-interested people from all walks of life, basically anyone interested professionally or personally in the environment, conservation, and/or sustainability. Folks hail from advocacy-oriented and educational NGOs, academia, green businesses, and government, and they come from all over our great little state, as well as nearby states, but mainly the Providence area. Through this network, people exchange information and ideas, develop professional and personal friendships, find jobs, develop synergies, help with others' projects, become more involved through community volunteering, and have lots of fun!
We have had monthly gatherings in Providence since 1999 and we became "officially" involved as part of the Green Drinks network in 2003.
Each month we gather at a different Providence venue. Sometimes it's hosted, sometimes just at a local restaurant or bar. It provides a chance to check out a variety of venues around the city. Occasionally there is a featured speaker but usually it's just casual networking. There is no set agenda and different people come every month. A "typical" monthly PGD event includes a few dozen people coming and going over the course of the evening, from 5-8pm, with some staying on longer or going out to eat.
There are also the occassional "bonus" state-wide Green Drinks gatherings on the beach in summer, Blithewold every November for the holidays, and other locations around the state from time to time. If you'd like to host a green drinks event, see below.
Contact -- As mentioned, the venue changes constantly so get on the email list (max of two emails per month) to stay informed as to the upcoming locations. Email Bill Mott, bmott.top (at) gmail.com to be added to the e-list and please also include a sentence or two about your professional and/or personal green-related interests so we can make strategic connections wherever possible and appropriate. You can also join Providence Green Drinks on Facebook.
Interested in hosting a Providence Green Drinks event?
Hosting Providence Green Drinks is a great way to reach a lot of interested people in the region with information about your organization, company, or campaign. PGD also reaches additional people through the Providence Green Drinks Facebook group (it's a closed group to deter solicitations but easy to can join online).
Hosting is a way to spread your message. We send out two e-postings each month: a save the date during first week of the month and then reminder about the event the week of the event. The monthly host's posting includes a couple of paragraphs of information, supplied by the host, including the exact coordinates and related info, such as parking. (If you reserve a specific month to host in advance, you will get multiple months of awareness /views by people on the list because the postings always include the date and host (with link to URL) for upcoming events.)
The host also has the option of talking (for approximate 5-10 minutes) at the event. Hosts must supply something for the attendees to eat and/or drink, such as reduced price or free drinks and/or appetizers. Some cater events; other bring a few cases of beer and bags of snacks. While we will post the email blast, we encourage the host to post info on PGD Facebook page and spread the word. If you're not yet included in the PGD Facebook group, please request to join online and we will make sure that happens. Thanks for hosting!
Check out the latest green events info at What Grows on in Rhode Island and the latest RI green news at ecoRI.