Delaware Valley Green Drinks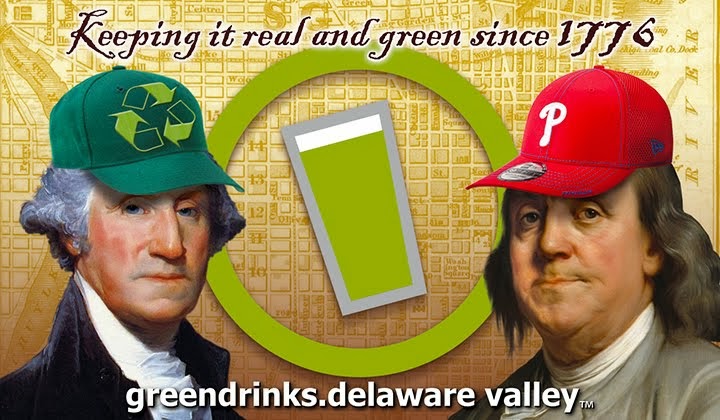 Think Global : Drink Local TM
Hello greendrinks.delaware valley community!
We meet the 1st Wednesday of every month at two Green Drinks Del Val locations (and 2nd Wednesday for GD Chester County and Northern Liberties).

Our

4

locations help connect more green communities and reduce commuting while still having a great time each month. Head out and bring your business cards with you; prepare to talk, network, problem-solve and work with your eco-peers in the Delaware Valley. Better yet, invite a friend to invite a new friend to meet us! And look for us on Twitter at

#GreenDrinksDV

Here are the four (4) official collaborative locations of
greendrinks.delaware valley:

Cherry Hill, NJ GreenDrinks | 6-9pm, 1st Wednesday of Each Month
Check the Sustainability Cherry Hill website for their next event location at
http://www.sustainablecherryhill.org/south-jersey-green-drinks-7/
Green Drinks Cherry Hill, NJ contact: http://www.sustainablecherryhill.org

South Philadelphia Green Drinks | ON HIATUS UNTIL FURTHER NOTICE
---
Northern Liberties Green Drinks | 6:30-9:30pm, 2nd Wednesday of Each Month
The Standard Tap | 2nd and Poplar Streets, Philadelphia, PA 19123
Tel: 215.238.0630 | http://news.standardtap.com

Chester CountyGreen Drinks | ON HIATUS UNTIL FURTHER NOTICE
It's ONE big greendrinks social networking event at ANY of the locations... so find a chapter near you and come out with your
friends, family and associates and havea great time networking all that is green. Thanks to all for making it so great each month!
Now on Twitter! @GreenDrinksDV
Think Global : Drink Local TM | 'one green night a month' TM

E: greendrinks.delaware.valley@gmail.com
W: http://greendrinksdelawarevalley.blogspot.com | http://www.greendrinks.org/PA/Delaware%20Valley
http://www.greendrinks.org

Interested in learning more? Email us and join our monthly email reminder list

_______________________________________

Note: Your privacy is very important to us. We will never share your email address with anyone. If you wish to no longer receive monthly reminders from us, please email us with the word "unsubscribe" in the subject line. Thanks!