Oxford Green Drinks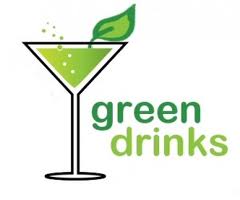 WHAT?
Green Drinks is an informal monthly opportunity to meet people and find out about all that is happening in the green movement in Oxford. Green Drinkers come from all backgrounds: NGOs, academics, practioners, campaigners, allotment owners... the list goes on. It is a self-organising network, there are no fees and everyone is welcome.
WHEN?

Oxford Green Drinks are always the third Monday of each month.
Our next meeting is on Monday 20th May
And, then throughout the year on: 17th June, 15th July, 19th August, 16th September, 21st October, 18th November, 16th December
Green Drinks start at 6.30 onwards.
WHERE?
Venue is the the Kings Arms pub. Just come along, buy a drink and then look for the tables with the Green Drinks signs on.
WHO?
Green Drinks are for everyone. If you want to catch up on what is happening in and around Oxford, meet new people, and have your green horizons furthered then Green Drinks are for you. The great thing about Green Drinks is you never know who you will meet or what conversations you will have.
MORE?
For further details and to be added to the Oxford Green Drinks mailing list, contact:
Sarah at greendrinksoxford@gmail.com
Follow on Twitter:
https://twitter.com/GreenDrinksOx
Join us on facebook:
http://www.facebook.com/groups/greendrinksoxford

If at anypoint you are moving away from Oxford then you can unsubscribe by sending an email to the Green Drinks Oxford address with 'Unsubscribe' in the subject line. We'd also recommend having a look at www.greendrinks.org to see if there is a Green Drinks where you are going. And if not, perhaps you can start one.

We look forward to seeing you soon.

Oxford Green Drinks