Sarnia Green Drinks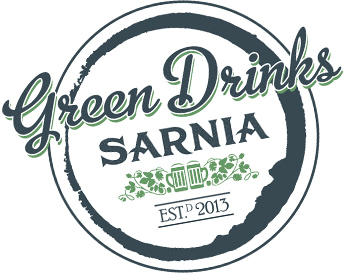 What: A social gathering and informal discussion of environmental issues.
When: Wednesday, December 10th, 2014 starting at 7:00 p.m.
Topic: What is Santa's Carbon Footprint... and your own?: A casual analysis and discussion of our individual impacts to the environment (see below for instructions).
Where: Limbo Lounge (Back Room), 196 Christina St. N., Sarnia, N7T 7W5
Contact: greendrinkssarnia@outlook.com
Twitter: @GreenDrinksSarn
---
Instructions:
- Visit: http://footprintnetwork.org/en/index.php/GFN/page/calculators/
- Use the "Detailed" option (it only takes about 5 minutes)
- Take a screenshot and print your Results page
- Check out suggestions to reduce your carbon footprint
- Bring your results to share at Green Drinks on December 10th
Notes for the Quiz:
- In Ontario, more than 75% of our electricity comes from "renewable sources"
- To convert square feet (ft2) to square meters (m2), multiply by 0.093
---
Previous topics:
November 12th, 2014: Are We Planning to Make Sarnia a Great City? with Jane Cooper, Director of Planning and Building, City of Sarnia
October 10, 2014: The State of Nature in Sarnia-Lambton: Acheiving the Minimum for a Healthy Environment with Shawn McKnight, Return the Landscape
September 10, 2014: Noise Annoys: Urban and Industrial Soundscape Effects on Wildlife with Dr. Dominique Potvin, Western University
August 13, 2014: "Wet your beak" and join in the discussion about Raptor Rescue and Rehabilitation with volunteers Jenni Kaija and Erica Di Muzio of the Bluewater Centre for Raptor Rehabilitation (BCRR).
July 9, 2014: Talking Trash - Common myths and misconceptions about recycling are discussed and debunked with Mary Jean "The Garbage Queen" O'Donnell, President, MJ Waste Solutions
June 11, 2014: "Hola Monarca!" - Population decline of the monarch butterfly and how to help this species at risk with special guest Kim Gledhill, Natures Way
May 14, 2014: Open Topic and Green Update
April 9, 2014: Issues of Habitat Loss: How habitat loss and degradation affect the interconnected web of life with Larry Cornelis, Return the Landscape Habitat Specialist and Lambton Wildlife Past President.
February 12, 2014: Great Garbage Patch: How tiny plastics are becoming a big problem for the Great Lakes with Karen Alexander, Outreach and Education Coordinator, Lake Huron Centre for Coastal Conservation
January 8, 2014: The Green Resolution: Tune into what's good for you this New Year. We took a field trip to the Urban Marketplace and sampled fresh, organic food and drink.
December 11, 2013: Beyond the Valley: Could industry in Sarnia-Lambton be headed for greener pastures? With George Mallay, General Manager, Sarnia-Lambton Economic Partnership
November 13, 2013: Yes or No to GMO? Genetic Engineering and the Future of Food with Chad Anderson, Independent Crop Advisor, Anderson Agronomy Services
October 9, 2013: The Spoils of Oil: the good and bad of refining tar sands bitumen in Sarnia with special guest Peter Smith, Energy Consultant
September 11, 2013: "Bee-pocalypse": How bee colony collapse affects food security with special guest Dan Davidson, President, Ontario Beekeepers' Association
Resources of interest:
American Agriculture May Eradicate the Monarch Butterfly Unless Swift Action is Taken
Report: Assessing and Mitigating Plastic Pollution in Lake Huron
The North Sea Foundation: Products Containing Microbeads
Michigan Radio: The teeny, tiny ingredient that could add up to a big problem for the Great Lakes
CBC News: Facial Scrubs polluting Great Lakes with plastic
Sarnia & Lambton County This Week: Yes or No to GMO
Sarnia & Lambton County This Week: The spoils of oil: Looking for truth in oil sands data
Oil Sands Fact Sheet by Peter Smith
Sarnia and Lambton County This Week: Bees discussed over beer
US News: Bee Colony Collapses Are More Complex Than We Thought
BBC Nature: Urban hives boom could be "bad for bees"
CBC: Beekeepers call for a pesticide ban (video)