Sarnia Green Drinks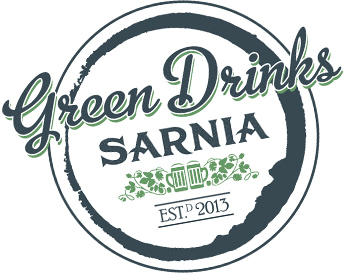 What: a social gathering and informal discussion of environmental issues
When: April 9, 2014 starting at 7:00 pm
Topic: Issues of Habitat Loss: How habitat loss and degradation affect the interconnected web of life
With: Larry Cornelis, Habitat Specialist, Return the Landscape and Past President, Lambton Wildlife
Where: The Front Door, 216 Front St., Sarnia
Contact: Monica Shepley at monica.shepley [at] lambtoncollege.ca
Hosted by the Bluewater Sustainability Initiative
Note: The March 12th discussion Hola Monarca! led by Kim Gedhill was cancelled due to inclement weather. More information will be available soon if we can reschedule.
Previous topics:
February 12, 2014: Great Garbage Patch: How tiny plastics are becoming a big problem for the Great Lakes with Karen Alexander, Outreach and Education Coordinator, Lake Huron Centre for Coastal Conservation
January 8, 2014: The Green Resolution: Tune into what's good for you this New Year. We took a field trip to the Urban Marketplace and sampled fresh, organic food and drink.
December 11, 2013: Beyond the Valley: Could industry in Sarnia-Lambton be headed for greener pastures? With George Mallay, General Manager, Sarnia-Lambton Economic Partnership
November 13, 2013: Yes or No to GMO? Genetic Engineering and the Future of Food with Chad Anderson, Independent Crop Advisor, Anderson Agronomy Services
October 9, 2013: The Spoils of Oil: the good and bad of refining tar sands bitumen in Sarnia with special guest Peter Smith, Energy Consultant
September 11, 2013: "Bee-pocalypse": How bee colony collapse affects food security with special guest Dan Davidson, President, Ontario Beekeepers' Association
Resources of interest:
Report: Assessing and Mitigating Plastic Pollution in Lake Huron
The North Sea Foundation: Products Containing Microbeads
Michigan Radio: The teeny, tiny ingredient that could add up to a big problem for the Great Lakes
Sarnia & Lambton County This Week: Yes or No to GMO
Sarnia & Lambton County This Week: The spoils of oil: Looking for truth in oil sands data
Oil Sands Fact Sheet by Peter Smith
Sarnia and Lambton County This Week: Bees discussed over beer
US News: Bee Colony Collapses Are More Complex Than We Thought
BBC Nature: Urban hives boom could be "bad for bees"
CBC: Beekeepers call for a pesticide ban (video)