Toledo Green Drinks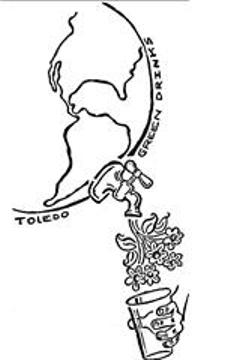 Welcome to Toledo Green Drinks!

Toledo Green Drinks has been meeting since April 2007, and is happy to have so many wonderful people in our community making Toledo a healthier and more sustainable place to live.

We meet once a month; location, date and agenda changes. There is no membership or attendance requirements for Toledo Green Drinks, you can come whenever with whomever you wish. Some months there is no set agenda, we just mix and mingle. Other months we will watch a movie, exchange books, listen to speakers, share ideas about a specific topic, etc. If you have any ideas about a location or agenda, please e-mail greendrinkstol@gmail.com. Thank you!


February Green Drinks

When: Tuesday, February 12 - 2013, 6:00 - 9:00

Where: The Attic on Adams, 1701 Adams St., Uptown

What: Discussion: Your Toledo Lucas County Sustainability Commission!
Take a moment to review the Toledo Lucas County Sustainability web page and become a friend on Facebook. We will be introducing the Commission to the public through out the year at various events and this will be the introductory kick off for public engagement in 2013.

Toledo Lucas County Sustainability Commission

FaceBook - Toledo Lucas County Sustainability Commission
Always Free. Everyone welcome.
Bring friends, bring foes.
Ride your bicycle, carpool, bus, skate, walk, run, fly to Green Drinks!
Contact Information
www.greendrinks.org
greendrinkstol@gmail.com
Facebook - Toledo Green Drinks