Mason Green Drinks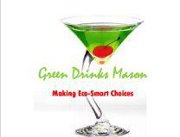 Ride the Green Wave of Eco-Smart choices
When is next: May 29th, from 6-9pm!
Where next: WagsPark in Newtown, Cincinnati, OH
Social gathering of pets and owners at WagsPark www.wagspark.com too come out and socialize your pooch with others, shop the vendor booths and to enjoy a cool cocktail, your pooches will have some dog biscuits to nibble as well.
Twitter for prizes, so don't forget your smart phones :)
Check out: http://greendrinks.org/OH/Mason for information about when/where we are going to meet. There you can also sign up to our mailing list to keep current on all Green Drinks Mason things going on. See you May 29th.