Cincinnati Green Drinks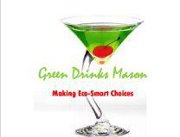 Ride the Green Wave of Eco-Smart choices
When is next: October 31st, from 6-9pm!
Where next: Cork-n-Bottle, Covingotn, KY
Spooky good time LOL as we drink, sample & sip "spirits" $15 gets you two drinks with various vendors & an awesome time in store as we raise money for www.pinkribbongirls.org with representative on hand that night.
Check out: http://greendrinks.org/OH/Mason for information about when/where we are going to meet. There you can also sign up to our mailing list to keep current on all Green Drinks Mason things going on. Boo You October 31.