Albany Green Drinks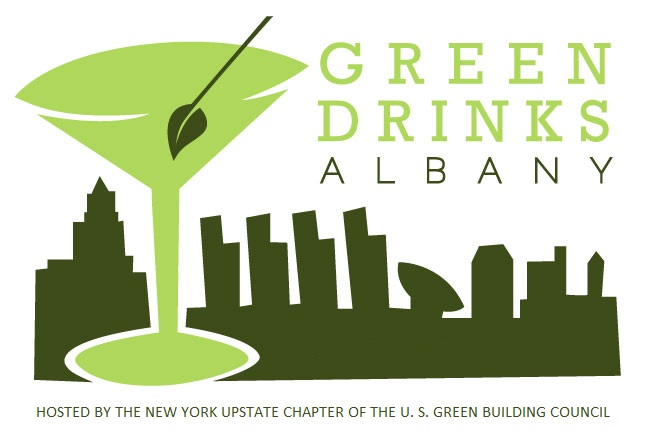 Is CANCELLED for August (but I encourage you to pick any great Albany location and meet up nonetheless)
Green Drinks Albany is NEXT on: September 22th, 5:30 PM - 7:30 PM
Venue: The Point http://thepoint.bmtmgt.com/ordereze/Pages/Photos.aspx?id=1
Contact: Jodi Smits Anderson at greenerjsa [at] gmail.com
Join us and let the greening spread. Bring your friends, family, colleagues and strangers off the streets.
Join us at The Point in Albany on Madison in September - a beautiful, locally owned, restaurant and up-scale bar. The owners have revitalized this section of Madison in the Pine Hills neighborhood and are welcoming us to visit. Conversations are free, welcome and invigorating, and we can certainly help you out with those!
Note that we have no sponsor as of yet for September, so food and drinks are on your own.
Come for a quick hello or join us for the evening. No agenda, just good networking with a wide assortment of local folks interested in what this greening stuff is and can be.
The conversations continue at Green Drinks Albany.
This event welcomes all who have any interest in connecting with other local "greenies" be they actively working for sustainable options in their day job, concerned about buying healthier foods and products, interested in understanding alternative energy, curious about local business opportunities, or simply interested in meeting some of the coolest people in the area.
Know of a potential sponsor? Opportunities are available to sponsor inventive munchies for events in 2014 – contact Jodi for any info on Green Drinks Albany at greenerjsa@gmail.com
Check back to this site or to www.greenupstateny.org for more information about these monthly events, each 4th Tuesday, either at 5:30pm until 7-ish or 7:30-9am (depending).
Follow Jodi on twitter: @greenerjsa for general greening news and updates on Green Drinks Albany and NY Upstate Chapter USGBC events.