Albany Green Drinks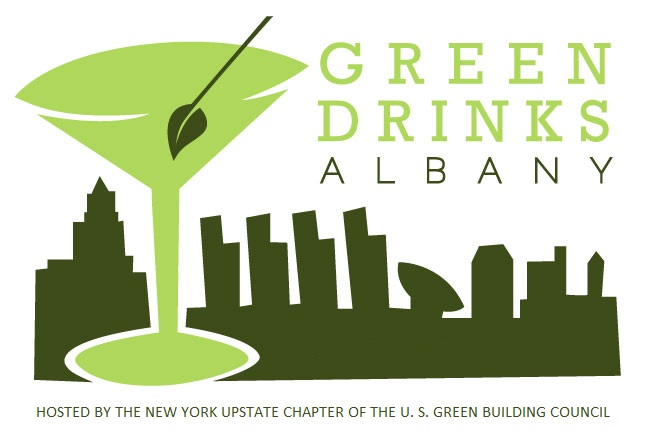 Is next on: July 22nd at 5:30pm, including an organic wine tasting!
Venue: Creo Restaurant, Stuyvesant Plaza
Contact: Jodi Smits Anderson at greenerjsa [at] gmail.com
Join us at Green Drinks Albany in June -
featuring organic wine tasting by Bonterra Organic
Join us for some tasty sampling and for informaiton on their processes at the winery. Thank you to Creo Restaurant for arranging this organic treat.
What could be better than rich conversations and local foods at a relaxing event with no cover charge and no registration, hosted at a local restaurant with great atmosphere ?
Add a taste of organic, fermented, juice of the grape and we're more than good to go!
Celebrate greeness with us.
..and we celebrate not just this month, but every 4th Tuesday in 2014!
Come join us and let the greening spread.
The conversations continue at Green Drinks Albany. Enjoy Creo happy hour drink specials of the alcoholic and non-alcoholic sorts, and tasty appetizers provided by a wonderful sponsor (if we have a sponsor this month...opportunities exist!).
Think about staying after to indulge in a delicious meal at Creo, one of the finest restaurants in the Capital Region.
Co-hosted by Creo and the NY Upstate Chapter of the U.S. Green Building Council, this event welcomes all who have any interest in connecting with other local "greenies" be they actively working for sustainable options in their day job, concerned about buying healthier foods and products, interested in understanding alternative energy, curious about local business opportunities, or simply interested in meeting some of the coolest people in the area.
Know of a potential sponsor? Opportunities are available to sponsor inventive munchies for events in 2014 – contact Jodi for any info on Green Drinks Albany at greenerjsa@gmail.com
Check back to this site or to www.greenupstateny.org for more information about these monthly events, each 4th Tuesday, 5:30pm until 7-ish.
Follow @GDAlbany on twitter for direct access to all tweets, news, pics from the event, etc.
Follow Jodi on twitter: @greenerjsa for general greening news and updates on Green Drinks Albany and NY Upstate Chapter USGBC events.