Las Vegas Green Drinks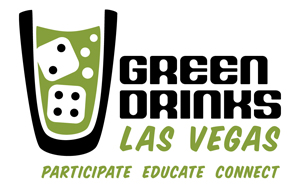 Vegas is back and representing the green!! Events will be held the 3rd Tuesday of each month so add us to your calendar. Our next event will be held Tuesday May 16th. Join our Facebook group and stay tuned for details!!
***********
Contact Brittany Kirkland or Trina Johnson for more information, or to host at your location:
greendrinks.lasvegas@gmail.com
Join us on Facebook.
*****
History:
We founded Green Drinks Las Vegas in June of 2007 as a social and business networking platform for people interested in greening Las Vegas. Our motto is to "participate, educate, and connect."
Our founding location was McMullan's Irish Pub (they're still green, and worth a visit!). Now we are hosted by green businesses across the Las Vegas Valley, so we can all learn how Vegas goes green!
Learn more about the international history of Green Drinks by exploring this website.