Santa Fe Green Drinks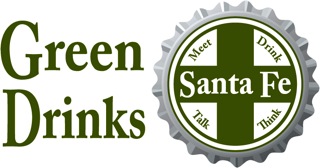 Santa Fe Green Drinks is sponsored by the Santa Fe Green Chamber of Commerce
For more info or to subscribe to our mailing list contact Glenn Schiffbauer, Executive Director, at Glenn@nmgreenchamber.com or call 505-428-9123
Santa Fe Green Drinks is an organic, self organizing network of people who work or are interested in the environmental field and the social issues that effect us. Each month, a lively mixture of people from businesses, NGOs, academia, and government show up to connect and reconnect in an informal way. It's a great way of catching up with people you know, and also for making new contacts and friends. Santa Fe Green Drinks meets on the first Wednesday of each month. Come join us!
Wednesday, May 8, 2013, 5:30-7pm
Co-op Power: How the Collective Power of People Can Power Your Business


The Cooperative business model of community ownership provides an astounding opportunity to build both community and the economy. Its very nature creates growth of local systems, supports non-profit community based organizations, and provides a potent vehicle for building the local economy.

So what does this have to do with your business?
Lots. Come find out from a local AND national pro why this inspiring business model with its important set of values and principles is experiencing a vigorous resurgence of interest and activity wordwide -- and how you can incorpate its hard-earned, best practices into YOUR business to take it to the next level.
For 25 years, Robin Seydel has worked on building the alternative economic system at La Montanita, a coop owned by16,000 (yeah, that's right!) New Mexican households with stores in Santa Fe, Gallup and Albuquerque. She is on the Board of Directors of the national Organic Consumers Association and the Good Food Network. Her writings have appeared in numerous periodicals, newspapers and books. She's a super busy lady. Don't miss her while we got her!
NEW DATE for this month only: Wednesday, May 8, 5:30pm-7:00pm
Hillside Market, 86 Old Las Vegas Hwy, Santa Fe (yes, there will be drinks!)

SF Green Drinks is hosted by the Santa Fe Green Chamber of Commerce. For more info contact Glenn Schiffbauer, Executive Director, at Glenn@nmgreenchamber.com or call 505-428-9123