Omaha Green Drinks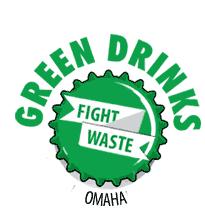 The Omaha chapter of Green Drinks has been meeting since 2006. We meet in Omaha on the 4th Wednesday of the month at 5:30 p.m. We meet in Omaha on the odd months (January, March, May, July, September, and November). Join the conversation and hear more on what others are doing in the Omaha area.
Our Omaha meeting location is at the centrally located Whole Foods Market, 10020 Regency Circle, Omaha, NE 68114. map
Or visit our facebook page to stay up to date on Green Drinks Omaha
If you have any questions, feel free to contact Rick Yoder at 402.554.6257 or email him at ryoder@unomaha.edu
Do you have a topic that you would like to discuss? Let us know! If you would like to be notified by email of the upcoming Green Drinks events, you can add your email to a notification only email list maintained by P2RIC by sending an email to p2ricinfo@gmail.com. Please be sure to include the words "Subscribe Green Drinks" in your request to subscribe to the email notification list.