Winston-Salem Green Drinks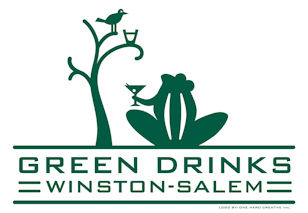 Five Points Restaurant
March 25
Special Guest
FIVE Points Restaurant


Special Guest
Matthew Johnson, Business Financial Manager
Caterpillar
Matthew will share Caterpillar's Winston-Salem LEED Silver Certification and Sustainability Plan.
5:30pm Meet and Greet
5:45 Introductions
6:00 Matthew Johnson Presents
6:20 Open Networking and Socializing
7:00 Continue your conversations over drinks at the bar or dinner!
FREE to attend, donations appreciated.
Subscribe to Green Drinks Mailing List
Find Us On
Green Drinks are Open
Green Drinks is mostly for people working on environmental issues, but anyone can come -- people from environment groups, business, government, academia and as individuals. There is no 'us and them'.
Organisers and all attendees actively welcome newcomers and introduce them to others in the group.

Green Drinks are Freeform
Green Drinkers mingle and share insights and provoke and exasparate and inspire and delight each other. There are moments of serendipity and a lot of 'oh, you if are interested in X then I must introduce you to that person over there who knows all about it' ...
All kinds of people come to Green Drinks and this is what makes for the interesting interactions.

Green Drinks are Regular
We meet the 4th Tuesday of the Month.

Green Drinks Cities are Unique
Each city does its own thing.
There is no central mailing list of attendees.
There is no central logo or branding as each city has its own logo and style to adapt to each location

Green Drinks are Fun
There is a very informal vibe and overall light feel.
There are lots of benefits to green drinks; they are hard to quantify, but when you have seen people come and make new links and learn and argue and set up new schemes and get new jobs etc, it is a good feeling.
For more information contact:
Sarah Olson, Green Drinks Winston Coordinator
336.403.8840