Outer Banks Green Drinks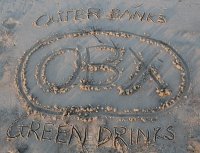 OBX Green Drinks Proudly serving the Northern Outer Banks

Come join the Green Drinks chapter on the Outer Banks!
When:
Second Wednesday of every month (September through May) at 7pm (on hiatus during June, July, and August)
Venue:
Waverider's Coffee -Deli -Pub
, 3022 S. Croatan Highway, Nags Head, NC; MP 11 1/4, Pirate's Quay Shopping Center
What: Social and networking. The Outer Banks is a diverse barrier island, the people who live, work and visit here amazed. Our community is filled with many green-minded people who rely on a heathly enivronment for thier livelyhood, relaxation and futures. Let's join together and share our common thread... the love of nature.