Outer Banks Green Drinks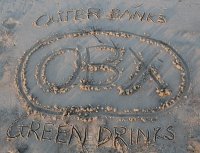 OBX Green Drinks
Proudly serving the Northern Outer Banks

Come join the new chapter of Green Drinks in the Outer Banks!

When: Second Thursday of every month (September through May) at 7pm (on hiatus during June, July, and August)
Venue: Various locations around the Outer Banks
What: Social and networking. The Outer Banks is a great place with lots of great people, let's share ideas for the group and the community.