Blue Water Green Drinks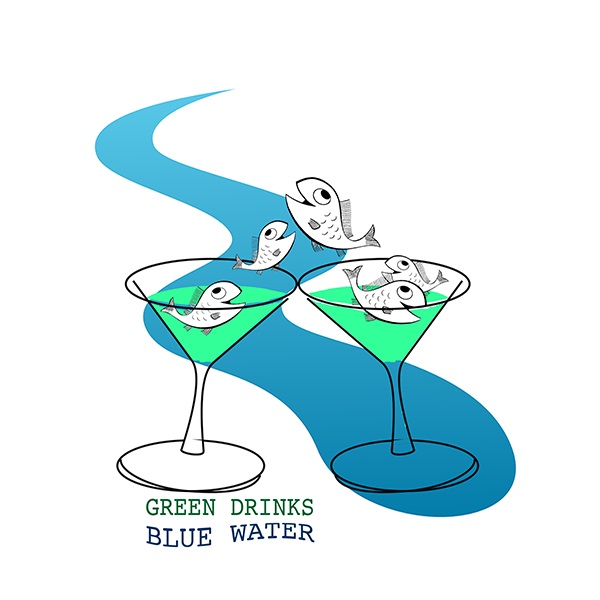 What: A social gathering and informal discussion of environmental issues
Upcoming Topics: All 1st Wednesdays at 6:30 p.m. at Casey's in Port Huron, unless noted
Where: Casey's, 628 Huron Ave., Port Huron
Contact: GreenDrinksBlueWater@gmail.com
Facebook: Green Drinks Facebook Page
***********************************************
When: Wednesday, February 7, 2018: 6:30 p.m. - 8:00 p.m.
Topic: Earth Fair Green Guardians: Nominate a green school, individual, group or business to receive the Blue Water area's only sustainabilty award!
***********************************************
When: Wednesday, March 7, 2018: 6:30 p.m. - 8:00 p.m.
Topic: Goodwill's green work: What's going on in the world of textiles recycling? What happens to your donations after you drop them off at Goodwill? What items are most in need? What do we need to know to do better when we donate to Goodwill? These are just a few of the questions we'll be asking our discussion leader, John Middleton, at our March gathering.
***********************************************
When: Wednesday, April 4, 2018: 6:30 p.m. - 8:00 p.m.
Topic: Tips for eco-travelling: How can we get around, enjoy the journey, and savor the destination in the most sustainable way? Bring your own tips and questions as we join Andy Northrop, Sustainable Tourism Regional Educator, MSU Extension, for what promises to be a lively conversation!
---
Previous Topics:
January 3, 2018: Green Resolutions: What will you do this year to make your life and community better and the planet a better place to live? Sometimes when we share a goal publicly, we are more committed and accountable.
December 6, 2017: Let's have a green holiday: Green Drinks Blue Water and Green Drinks Sarnia members shared tips for environmentally-friendly gift giving or alternatives, green gatherings with friends and family, enjoying food and beverage, and seasonal decorating.
November 1, 2017: Vote with your $$$: Even if you've made the conversion to a non-consumer or "green" lifestyle, you still have to buy things. How do you decide? Bring your list of purchasing criteria or tell us what things you consider, other than the price.
October 4, 2017: The Non-Consumer Lifestyle, with Christine Danner: A non-consumer lifestyle relies on minimizing purchases, reducing waste, and sharing as much as possible.
September 6, 2017: Environmental Footprinting: Compare and contrast online footprinting tools and results
August 2, 2017: Delicious, destructive, or deadly: Invasive animal species and why they're so successful, with Amy Meeker-Taylor.
July 5, 2017: What are you declaring independence from? Single use disposable plastics? Dryer sheets? GMO's? We're all working on reducing our environmental footprints in ways large and small. Come share your successes and challenges and swap sustainability stories!
June 7, 2017: 125 Years of Sierra Club, with Martin Habalewsky, Sierra Club is celebrating its 125th anniversary and the Sierra Club Michigan Chapter is observing its 50th anniversary. We'll focus on what Sierra Club has done with environmental advocacy in the last 100 years and how you can be part of this great tradition.
May 3, 2017: Measuring Earth Fair's environmental footprint, with Kirsten Lyons, The Earth Fair's staff, participants and volunteers have been working on shrinking the event's environmental footprint for the last several years, beginning with a low-waste effort.
April 5, 2017: Walkability is Sustainability with Judy Lindberg, We're capping off National Walking Day with a conversation about walking and it's importance to human, economic and environmental health, and how a community can invest in walkability.
March 1, 2017: Eat Green, with Jeanne Mackay, We'll talk about how small changes in diet and subtle shifts in thinking can help us transition to a more planet- and people-friendly way of eating.
February 1, 2017: The new Earth Fair Green Guardian awards program with Amy Meeker-Taylor, Do you know an individual, family, business, group, school or classroom doing great things for our environment in the Blue Water Area?
January 4, 2017: The State of Solar with Aaron Faust, How does solar work? Where is solar working?
December 7, 2016: Non-consumerism, Voluntary Simplicity and Minimalism, Voluntary simplicity means consuming less and rethinking some of our materialistic tendencies. Chris Danner led us in conversation about her journey down this path.
November 2, 2016: Lambton Wildlife's 50th Anniversary Celebration
October 5, 2016: Being Green on Vacation, Planning with a purpose, packing green, getting there and back, experiencing the place, eating and sleeping and shopping, and evaluating your trip after you've returned.
September 7, 2016: Share Your Environmental Good News!
August 3, 2016: Pollinator Health, using this article and video to kick off our discussion: http://www.lansingstatejournal.com/story/news/local/2016/07/22/declining-wild-bee-populations-threaten-states-fruit-industry/87242152/
July 6, 2016: Food Waste, We kicked off our discussion by discussing this short video about the subject: https://youtu.be/IoCVrkcaH6Q
June 1, 2016: Microplastics in the Environment, focusing on recent research on microplastics. If you'd like a preview, you can review Kirsten's summary of the Microplastics in the Great Lakes workshop: https://docs.google.com/…/1cUbR_HWI1m--Bh4atoEhHOGrXs…/edit….
May 4, 2016: Plastics in the Environment, using this video, narrated by Jeff Bridges, to kick off the discussion. Our own Andy Northrop has written some articles on the subject so we talked about those, too.