Frederick Green Drinks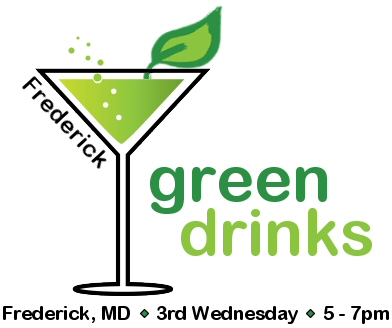 Frederick Green Drinks
Our NEXT event is on: February 19, 2014 (Wednesday) from 5 to 7pm
A representative of the Catoctin Forest Alliance will present information about the local "Trout in the Classroom" program. The program was started a number of years ago with the goal of involving school children in the rearing of trout from eggs. As these students grow to care about their trout, they grow to care about the habitat in which trout live. As the program progresses, students learn to see the connection between the trout, water resources, the environment, and themselves
Looking forward to some great presentaions on sustainability. Stop by for a drink, some renewable energy fellowship and to join in the conversation.
Your continued interest and support is appreciated.
Quynn's Attic (5 to 7p.m.)
10 East Patrick Street (side entrance)
Frederick, MD 21701
Every month people who work in the sustainability field meet up at informal sessions known as Green Drinks.

These events are very simple and unstructured, but many people have found employment, made friends, developed new ideas, done deals and had moments of serendipity. It can be a force for good in our community.

The spirit of green drinks is that anyone can come, and this makes for interesting interactions. If you are interested in green, ecological, environmental, organic, renewable, and sustainability issues, you are welcome to attend.

RSVP is not required, but it would be helpful to get a head count...
Contact:
Rich Maranto
rich [at] mdgoesgreen.org