Worcester Green Drinks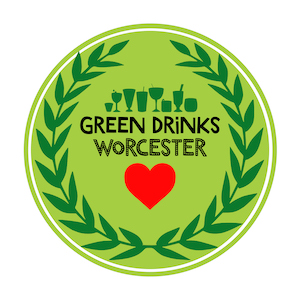 Green Drinks, Worcester began in April 2011 as part of the international social network to create global environmental change. The idea behind Green Drinks, Worcester is simple: connect eco-minded Worcesterites with local, eco-conscious enterprises. Our goal is the spread the word about new and exciting programs while at the same time supporting our local economy. Simply meeting once a month gives us a chance to build relationships and capcity, share ideas and discover new possibilities When Wormtown's green community puts their minds together in one room…find out at the next Green Drinks.
---
You can find us at:
Facebook: http://www.facebook.com/pages/Green-Drinks-Worcester/205435426163936
Twitter: https://twitter.com/WooGreenDrinks
Website: http://woogreendrinks.wordpress.com/
Contact: Seth Mansur: s.mansur@intelligen.energy
---
Thursday, January 26th 2017
Join the Worcester Clean Tech Incubator (WCTI) and Intelligen.Energy to relaunch Green Drinks Worcester. Joe Bush from WCTI and Seth Mansur from Intelligen.Energy will be hosting the event and look forward to facilitating the event.
Worcester CleanTech Incubator's mission is to foster the growth of new enterprises to address the most pressing issues of our time. We believe that entrepreneurship is the lifeblood of innovation and the key to society's transition towards sustainability. WCTI provides both the physical and network resources companies need to propel their ideas to market.
Founded and operated by the Institute for Energy and Sustainability, we are a community in the heart of central Massachusetts dedicated to building change. The WCTI facility, located in the Printers Building at 44 Portland Street in Worcester, provides over 10,000 square feet that offers private offices, co-working space, conference rooms, event space, and prototyping labs.
The Worcester CleanTech Incubator is owned and operated by the Institute for Energy and Sustainability, which is a 501(c)3 non-profit.
We've developed a simple way to go solar. Traditionally, in order to find a match, you have to call 5 companies, sit with 5 salespeople, and sort through 5 bids - all of which are telling you they are the best . . .
Intelligen.Energy takes a different approach where we value you. As your solar consultant, we learn about your home, discover your needs, create the optimal design for your home, and find the best match in the marketplace - all while educating you on solar energy, the solar industry, and your options for going solar
Additionally, Intelligen.Energy provides key services that help to simplify and accelerate the adoption of solar for homeowners and businesses:
Residential Consulting and Bidding Service (Free)
Client Provision for Solar Contractors
Development of Commercial Solar Solutions
Commercial Solar Financing
Industry Consulting
Professional Classes and Courses
---
Tuesday, August 28th 2012
Join Stone Soup and Matt Feinstein as they tell their story of the amazing project to rebuild the beloved community center. The space was struck with two devastating fires but through the determination of the members, partner organizations and the support of the community it will once again be reopened.

As always come have a drink with old friends, meet new friends and see how you can get involved with the Stone Soup project.

The mission of Stone Soup is to build grassroots power by connecting and enriching groups and individuals in our communities who are working for social justice in Worcester, MA. We are building community and economies based in cooperation and creativity while resisting oppression and gentrification.
http://www.stonesoupworcester.org/
---
Wednesday, July 25th 2012
Join us this month to get a preview of Worcester's first sustainable and earth-friendly music and arts festival, the Open Road Festival!

The goal of Open Road is to raise the awareness of alternative and sustainable lifestyles while bringing the Worcester community (and beyond) together to enjoy local art and extraordinary music.

Stick around, after the speaker, to hear two bands that will also be playing at the Open Road Festival in September. Marcus Ohanesian will be raffling off tickets to the festival.

Open Road is searching for interested volunteers and Worcester's environmentally and socially conscious organizations to set up a table or workshop and share their knowledge. So find out how you or your organization can get involved.

Come enjoy the night with great music, friends, drinks and an all around eco-tastic time!
http://www.openroadfestival.com/info/
---
Wednesday, June 27th 2012
http://www.facebook.com/
StudioBus
This month Cha Cha Connor will speak about the Scyllabus Studio Bus Project. The ScyllaBus is a mini school bus converted into a 3 person home and a music studio!!! It runs on veggie oil and solar (when complete). Cha Cha, Chuck and the crew will be giving tours of the bus after they speak.

So come see what the project is all about and experience ecological, minimal living in action!

We're meeting at Fiddler's Green Pub at the Hibernian (http://
fiddlersgreenworcester.com/ ) behind the Dive Bar. Scyllabus will be parked in that giant parking lot at the back!
http://www.facebook.com/events/237613743024926/