Springfield, MA Green Drinks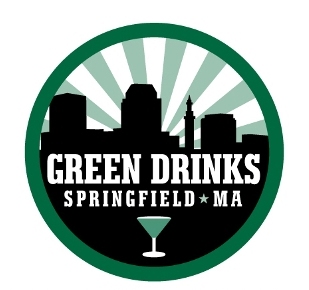 Who We Are
Green Drinks Springfield is the local Springfield, MA meetup for citzens, professionals, and public servants interested in
sustainability, renewable energy, all things "green," the environment, and the new Green Movement. Whether a seasoned professional in a green business or just curious to find out what the buzz is about you are welcome!
Green Drinks is an agenda-less, non-dues-paying open social event. Come and find out more!
Where You Can Find Us Online:
www.facebook.com/GreenDrinksSpringfield

www.linkedin.com/groups/Green-Drinks-Springfield-MA

Occurs the 1st Thursday of every Month, 5:30-7:30. 9 Months out of the year we can be found at Theodore's, 201 Worthington St., Springfield.
In the summer when Bike Week is happening downtown, we can be found at Mama Iguana's at the old Basketball Hall of Fame (visible from the highway), 1150 W Columbus Ave (aka Hall of Fame Ave), Springfield.
Create a reoccuring Green Drinks event reminder on your electronic calendar:
When: 1st Thursday of every month
Where: Theodores, 201 Worthington St, Springfield, MA
When: 5:30 PM to 7:30 PM and often later!
Check us out on our October 3, 2011 appearance on TV 22's Mass Appeal show:
http://www.wwlp.com/dpp/mass_appeal/community/green-drinks%3A-promoting-a-greener-planet

Kudos
Thanks to the past support from the Economic Development Council of Western Mass.

Thanks also to graphic artist Todd M. LeMieux for our Green Drinks Logo.

How You Can Get Involved
Help us spread the word. Green Drinks is a grassroots effort driven by those who show up. Help us make it bigger and better every month!
If you're interested in helping us stay active and increase attendance, join our Facebook groups page (which is different from our fan page above)!

Past Green Drinks Events
Get a little taste of our events below!
Green Drinks Springfield One Year Anniversary
Inagural Event: Interview with Attendee Gary Czelusniak

Inagural Event: Interview with John Majercek, ReStore

Inaugural Event: Interview with John Guerin of GreenShading

Sponsor Green Drinks
Every month between 20 and 50 of the movers, shakers, and decision makers driving the green redevelopment of the greater Springfield area and beyond attend Green Drinks. Get your company in front of them by lending your support. Green Drinks sponsors make our appetizers possible. Here's what you get for your support:
You company's name, logo, linked website, and short 20 word message on all email and web communications about the event you are sponsoring.
The ability to display your company's pop-up banner and promotional materials at the event.
Announcement of your sponsorship during the event.
Logo co-promotional opportunities with your customers and constituents.
PR opportunities as negiotiated.
Contact John Kontekakis for more details on this, or anything else having to do with Green Drinks Springfield.