London Green Drinks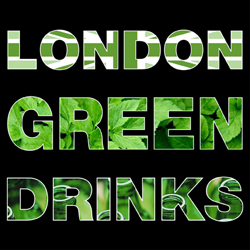 Welcome to the London Green Drinks webpage.
The London Green Drinks are always held on the second Tuesday of the month.
The dates for 2015 are: 10 February, 10 March, 14 April, 12 May, 9 June, 14 July, 11 August, 8 September, 13 October, 10 November, 8 December.
The London Green Drinks are held in the downstairs room at Fairly Square - London's first Fair Trade bar and cafe. It's a short six minute walk from either Chancery Lane or Holborn tube stations. You can see a map here.
The events start at 6:30pm and provide an opportunity for green drinkers to meet, chat and network in an informal and relaxed manner. They are free to attend and there is no registration process – you can simply turn up. These London Green Drinks have been a regular event since 1989, meaning we've got a wide network of attendees with some great experience and stories.
The main focus of the events is the networking, but we always arrange for at least one person to stand up and give a five minute talk about a green issue, campaign or publication that they are involved in. If you would like to say a few words about something you're involved in, please send an email to ryan.west@copperconsultancy.com. The speaking slots start from around 7.30pm.
Since the start of 2014 Copper Consultancy has been managing the organisation of the London Green Drinks. If you'd like to sign up for our Green Drinks reminders please email your name with 'Green Drinks' in the subject line to ryan.west@copperconsultancy.com.
You can also stay in the loop by following us on Twitter and liking our Facebook Page. We'll keep you updated on what we're doing and provide information on all of our speakers.
To unsubscribe from reminders send an email with 'Unsubscribe Green Drinks' in the subject line and you'll be removed from the circulation list.