Naperville Green Drinks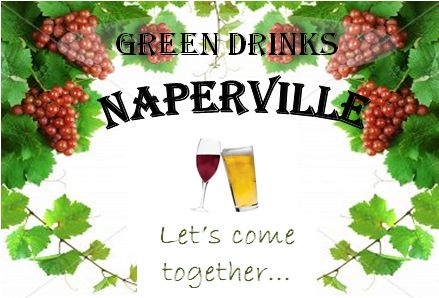 Green Drinks - Naperville is on:
MEETUP (ALL THE DETAILS HERE!): http://www.meetup.com/Naperville-Area-Sustainability-Group/
Facebook: http://www.facebook.com/permalink.php?story_fbid=298639056867737&id=184387011575618#!/groups/113091428731426/
LinkedIn: http://www.linkedin.com/groups/Green-Drinks-Naperville-3004027
Join us!
7:00 PM Wednesday, February 27th, 2013
Two Brother's Roundhouse in Aurora
16 W Jefferson Ave
Naperville, IL 60540
630-717-0400
About Green Drinks - Naperville:

Every month people across the globe who are interested in environmental issues meet up at informal sessions known as Green Drinks. Green Drinks - Naperville, which was founded in February 2010, is just one of 500+ of these chapters worldwide. It's a lively mixture of people from business, NGOs, academia, our community and government.
Come along and you'll be made welcome-TEETOTALERS TOO. It's a great way of catching up with people you know and also for making new contacts. Everyone invites someone else along, so there's always a different crowd, making Green Drinks an organic, ever expanding network. These events are very casual, and food and drink are on your own.
We meet the last Wednesday of every month. We are a green social networking event in every sense - 'self-organizing' and 'organically-growing' - so spread the word and see you at the next Green Drinks - Naperville!
Last Wednesday of each month:
Jan 30: SEED SWAP, Homegrown Naperville, Local Co-ops


Feb 27 (3 yr anniversary!): Naperville CSA, Local Farmers


March 27: Permaculture, Square Foot Gardening


April 24: Water Collection


May 29: Respecting the DuPage River


June 26: Alternative Healthcare Practices


July 31: Exploring Nature's Therapy


August 28: McDonald Farm Cookout


September 25: Maximizing Your Personal Energy


October 30: Energy Efficiency at Home. Be sure to wear your costumes!


November 27: DRINK & FOOD DRIVE-bring nonperishable donations!! Celebrate the season with great friends and LIVE MUSIC!
FEE: $5 per person for each event. Please see our Facebook or Meetup page for more details!