Evanston Green Drinks
What if we told you there was a monthly occasion where you could talk about sustainability in a cozy context, sipping a glass of your favorite drink, surrounded by your friends and other Evanstonians? A chance to meet new people with same interests and different background experiences in a friendly place? Learning by sharing, meeting after meeting?
That's real! Call it by name: Evanston Green Drinks!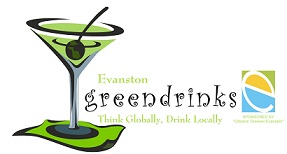 Evanston Green Drinks was launched in May 2011 by Elizabeth Porporato, Diego Fazi, Andrew Irwin, Ting Zhou, Anya Traisman in collaboration with Citizens' Greener Evanston and Another Way-Evanston Green Eyes.
Evanston Green Drinks is organized every 2nd Tuesday of the month - new topic, same formula!
---
Next event is on: October 11, 2011 7-9pm
Venue: Firehouse Grill, 750 Chicago Ave, Evanston, IL 60202
Free Entrance, Cash Bar Available
Event Title: Saving Energy and Money at Home? Learn how...
Panel topics:
Weatherization in regular and affordable housing
Energy efficiency in new construction and remodeling
Tips and incentives to make it happen!
Panelists:
John Hamilton, Director of Weatherization at CEDA;
Nathan Kipnis, Principal at Nathan Kipnis Architects and Board of Directors Member at CGE;
Tom Wieser, Vice-President and Regional Manager at GreenSpark Energy Solutions.
---
Web: http://GreenDrinksEvanston.wordpress.com/
Facebook: http://www.facebook.com/CitizensGreenerEvanston
Contact: Elizabeth Porporato at info [at] greenerevanston.org