Evanston Green Drinks
What if we told you there was a monthly occasion where you could talk about sustainability in a cozy context, sipping a glass of your favorite drink, surrounded by your friends and other Evanstonians? A chance to meet new people with same interests and different background experiences in a friendly place? Learning by sharing, meeting after meeting?
In fall of 2014, Citizens Greener Evanston announced our partnership with Farmhouse Evanston to host the latest iteration of Evanston Green Drinks. Visit greenerevanston.org for all up-to-date information on times and speakers.
Evanston Green Drinks is free and open to the public. Join us for our next event at Farmhouse Evanston.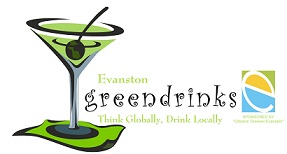 Evanston Green Drinks was launched in May 2011 by Elizabeth Porporato, Diego Fazi, Andrew Irwin, Ting Zhou, Anya Traisman in collaboration with Citizens' Greener Evanston.
---
Interact with us on Facebook or Twitter or email us at info [at] greenerevanston [dot] org