Crystal Lake Green Drinks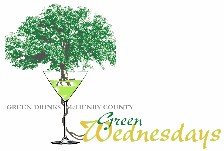 In McHenry County, the first Wednesday of each month is Green Wednesday!
Our next gathering is June 7, from 5PM - 7PM
On June 7 we will have Mary Deja, a long time Ranger with the Conservation District, who has had personal experience with Lyme Disease. She is very active with the local Lyme Support Network Lyme Support Network She will discuss with us how to identify ticks, best practices for preventing tick encounters and what do if you think you have had a tick bite, while reminding us that we should still enjoy the great outdoors! Mary will also have resources to share with us.
Future programs:
JULY 5 - Jordan Parker, Bring Your Bag Chicago will discuss the plastic bag ordinance in the City of Chicago and other local and regional initiatives. Introduction by Defenders' BYOBag Committee chair.
August 3, 2017 - David Christensen, Director of MC Emergency Management Agency, will be speaking on Climate Disruption Preparedness based on the brand new McHenry County Natural Hazard Mitigation Plan. He'll focus on such things as protection of our watersheds in order to mitigate problems associated with droughts and flooding.
---
Join us at Duke's Alehouse & Kitchen, 110 N Main Street in Crystal Lake. Head upstairs at Duke's for info and inspiration, business and pleasure. Come talk about "greening" the future with others. Must be 21 to purchase alcohol - non-alcoholic drinks are available, of course!
We have an information table set up, and you are welcome to bring information about your green products and services each month to share.
Additional parking is available at the train station.
Contact us at: GreenDrinksMC@gmail.com or find us on FaceBook
Green Drinks is sponsored by the Environmental Defenders of McHenry County
and Duke's Alehouse & Kitchen.
Privacy Policy: Your contact information will only be used to notify you of Green Drinks events or updates. It will not be sold or disclosed to third parties without your consent.
- Founded in North London in 1989, Green Drinks is now active in over 600 cities worldwide. -