Crystal Lake Green Drinks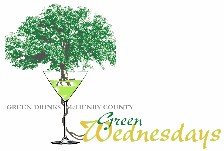 In McHenry County, the first Wednesday of each month is Green Wednesday!
Our next gathering is February 1, 2017, from 5pm - 7pm
From our January event:
Senator Pam Althoff will be the guest speaker at the January 4th Green Drinks event. Senator Althoff has represented the 32nd District in the Illinois Legislature since 2003 and was recently re-elected for another term. She has been a friend of the environment during her years of service and was a big supporter of the Clean Energy Bill for Illinois that was just adopted this past Fall.
Senator Althoff will be addressing that bill and any environmental issues that may be coming up in the 2017 legislative session during her presentation. She also will welcome questions about these issues.
Representative Steve Andersson will join Senator Althoff in a discussion of Illinois' upcoming environmental issues. He is a small business owner in Geneva, Illinois, and has been a licensed attorney for more than two decades.
Representative Andersson serves Illinois' 65th Legislative District which includes much of Kane County and Huntley in McHenry County.
2017 SCHEDULE - Tentative
February 1, 2017 - Visit McHenry County, Jaki Berggren
March 1, 2017 - a presentation by one of Duke's fine purveyors
April 5, 2017 - Scott Henning & Ben Redding - McHenry County Division of Transportation
Scott Henning, Principal Transportation Planner and Ben Redding, the new Design Manager for the McHenry County Division of Transportation (MCDOT) will be the speakers for Green Drinks on Wed. April 5. Ben will talk about how MCDOT is working with the McHenry County Conservation District to mitigate the impact their projects have on wetlands in McHenry County. Scott will discuss the Five-Year Transportation Program, which is slated to be adopted by the McHenry County Board before April 5.
May 3rd, 2017- Brad Woodson, Natural Resource Manager at the McHenry County Conservation District will speak about the Agricultural programs at the District that use Best Management practices and encourage the protection of the flora, fauna and soils of the publicly held lands.
June 7, 2017 - David Christensen, Director of MC Emergency Management Agency, will be speaking on Climate Disruption Preparedness based on the brand new McHenry County Natural Hazard Mitigation Plan. He'll focus on such things as protection of our watersheds in order to mitigate problems associated with droughts and flooding.
---
Join us at Duke's Alehouse & Kitchen, 110 N Main Street in Crystal Lake. Head upstairs at Duke's for info and inspiration, business and pleasure. Come talk about "greening" the future with others. Must be 21 to purchase alcohol - non-alcoholic drinks are available, of course!
We have an information table set up, and you are welcome to bring information about your green products and services each month to share.
Additional parking is available at the train station.
Contact us at: GreenDrinksMC@gmail.com or find us on FaceBook
Green Drinks is sponsored by the Environmental Defenders of McHenry County and Duke's Alehouse & Kitchen.
Privacy Policy: Your contact information will only be used to notify you of Green Drinks events or updates. It will not be sold or disclosed to third parties without your consent.
- Founded in North London in 1989, Green Drinks is now active in over 600 cities worldwide. -