Crystal Lake Green Drinks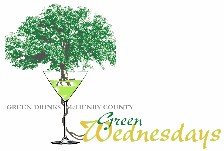 In McHenry County, the first Wednesday of each month is
Green Wednesday!
Our next gathering is December 3rd, 2014, from 5pm - 7pm
Old is the new new!!!
Reuse, Repurpose, Reclaim it!!!
Brent Hollenberg from Reclaimed Crystal Lake (just a couple doors down from Duke's) will talk about how they got started "reclaiming" materials and furniture, what they look for, what are the trends, where they find items, unusual finds and possibly some simple things you can do to "Reuse, Repurpose or Reclaim" your own items and plenty of time to ask questions.
Our long time attendee Jean Hervert will be in the Living Room from 5 until the presentation with her loom, demonstrating some of her skill with the shuttle and talking about everything woven! Her work is truly inspiring!
---
Join us at Duke's Alehouse & Kitchen, 110 N Main Street in Crystal Lake. Head upstairs at Duke's for info and inspiration, business and pleasure. Come talk about "greening" the future with others. Must be 21 to purchase alcohol - non-alcoholic drinks are available, of course!
We have an information table set up, and you are welcome to bring information about your green products and services each month to share.
Additional parking is available at the train station.
Contact us at: GreenDrinksMC@gmail.com or find us on FaceBook
Subscribe to our mailing list
* indicates required
Email Address *
First Name
Last Name
Privacy Policy: Your contact information will only be used to notify you of Green Drinks events or updates. It will not be sold or disclosed to third parties without your consent.
- Founded in North London in 1989, Green Drinks is now active in over 600 cities worldwide. -