Crystal Lake Green Drinks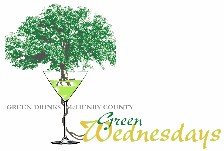 In McHenry County, the first Wednesday of each month is Green Wednesday!
Our next gathering is September 7, 2016, from 5pm - 7pm
***The McHenry Co. League of Women Voters will be registering voters at September Green Drinks Networking event. To register, you will need to bring two forms of identification and one of those will need to have your current address. Please bring along friends or family that also need to register.***
Our next gathering is September 7, 2016, from 5pm - 7pm
Join us as we celebrate our 7th Anniversary with Nature Photographer, Weg Thomas. He will help remind us about the bounty and beauty we are fortunate to have in our county through a visual presentation of some of his many photos.
Weg has photographed for The Land Conservancy, McHenry County Conservation District, Volo Bog, and others over the years. We are pleased to have him offer our program and help celebrate our anniversary!
---
Tentative future topics:
October 5, 2016: Smart Grid
November 2, 2016: Rehabbing
December 7, 2016: Wine
---
Join us at Duke's Alehouse & Kitchen, 110 N Main Street in Crystal Lake. Head upstairs at Duke's for info and inspiration, business and pleasure. Come talk about "greening" the future with others. Must be 21 to purchase alcohol - non-alcoholic drinks are available, of course!
We have an information table set up, and you are welcome to bring information about your green products and services each month to share.
Additional parking is available at the train station.
Contact us at: GreenDrinksMC@gmail.com or find us on FaceBook
Privacy Policy: Your contact information will only be used to notify you of Green Drinks events or updates. It will not be sold or disclosed to third parties without your consent.
- Founded in North London in 1989, Green Drinks is now active in over 600 cities worldwide. -