Crystal Lake Green Drinks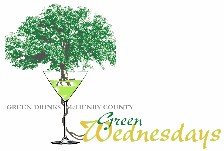 In McHenry County, the first Wednesday of each month is Green Wednesday!
Our next gathering is February 4th, 2015, from 5pm - 7pm
Michelle Dare and Linda Haman will be presenting a Quiz Show, entitled "Eco Stars" (complete with prizes!), discussing general recycling facts and hopefully dispelling a myth or two.
About the presenters:
Michelle is an Earth and Environmental Science teacher at Crystal Lake Central. Her passion centers around the Earth and those wishing to live on it. She enjoys travelling and collecting sand, rocks, and junior ranger badges while on the road. She is joyously anticipating her son's foray into higher education this fall and looks forward to the many adventures to come!
Linda works as a certified School Nurse in a local school district. She has always loved and appreciated the beauty of nature and our earth. She enjoys reading, monitoring sand hill cranes with her sister, and growing tomatillos. She has 2 wonderful grown sons; one a mechanical engineer and one finishing medical school. She has a lovely daughter-in-law and is a first time Grammie!
---
Join us at Duke's Alehouse & Kitchen, 110 N Main Street in Crystal Lake. Head upstairs at Duke's for info and inspiration, business and pleasure. Come talk about "greening" the future with others. Must be 21 to purchase alcohol - non-alcoholic drinks are available, of course!
We have an information table set up, and you are welcome to bring information about your green products and services each month to share.
Additional parking is available at the train station.
Contact us at: GreenDrinksMC@gmail.com or find us on FaceBook
Subscribe to our mailing list
* indicates required
Email Address *
First Name
Last Name
Privacy Policy: Your contact information will only be used to notify you of Green Drinks events or updates. It will not be sold or disclosed to third parties without your consent.
- Founded in North London in 1989, Green Drinks is now active in over 600 cities worldwide. -