Crystal Lake Green Drinks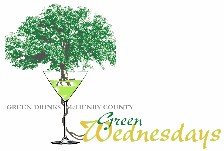 In McHenry County, the first Wednesday of each month is Green Wednesday!
Our next gathering is May 4, 2016, from 5pm - 7pm
John Kremer, MCCD: HAVE FUN!
May 2016 - Homegrown Adventures, Vacations, and Explorations Found Under your Nose! (HAVE FUN!)
When many people think of adventure it invokes thoughts of the once-a-year grand vacations to far off destinations or trips to the family cabin a few times a summer. However, John Kremer fills all four seasons with adventure through an active outdoor lifestyle, discovering little gems along the way which are tucked away in our local communities and nearby vicinity.
John will discuss how to augment a hike through a conservation area, bike ride on a trail, or paddle down a river with added side trips, lunch stops, and interesting history to make the day instill lasting memories. John will share some of his local favorite adventures and how he took them from conept to fun-filled explorations by finding those gems along the way. John hopes that by showing how he does it, he will encourage others to discover their own local adventures.
John Kremer is the Director of Operations & Public Safety at McHenry County Conservation District and a life long adventurer.
Tentative future topics:
June 1, 2016: Nutrient Loss Reduction Strategy
July 6, 2016: Ticks
August 3, 2016: Native Pollinators
September 7, 2016: Nature photography
October 5, 2016: Smart Grid
November 2, 2016: Rehabbing
December 7, 2016: Wine
---
Join us at Duke's Alehouse & Kitchen, 110 N Main Street in Crystal Lake. Head upstairs at Duke's for info and inspiration, business and pleasure. Come talk about "greening" the future with others. Must be 21 to purchase alcohol - non-alcoholic drinks are available, of course!
We have an information table set up, and you are welcome to bring information about your green products and services each month to share.
Additional parking is available at the train station.
Contact us at: GreenDrinksMC@gmail.com or find us on FaceBook
Privacy Policy: Your contact information will only be used to notify you of Green Drinks events or updates. It will not be sold or disclosed to third parties without your consent.
- Founded in North London in 1989, Green Drinks is now active in over 600 cities worldwide. -