Crystal Lake Green Drinks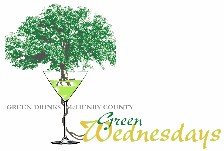 In McHenry County, the first Wednesday of each month is Green Wednesday!
Our next gathering is May 6th, 2015, from 5pm - 7pm
Helping Monarch Butterflies Survive, presented by Micheal Rizo, U.S. Forest Service staff
Michael Rizo has worked in various capacities for the US Forest Service since 2001. Presently, he is working as an Urban and Community Program Specialist for the Latin America Team of the US Forest Service where he designs and coordinates outreach, education, and capacity building projects along the migratory flyway of the monarch butterfly. He works with non-governmental organizations, universities, museums, nature centers, and other groups, with a large focus on work at the community level.
June 3: Biking in McHenry County
Tentative future topics:
July 1: Fox River Corridor, Chicago Metropolitan Agency for Planning
Aug. 5: Composting for Apartment Dweller & Small Households, Rich Tobias, U of IL Master Gardener
Sept. 2 (6th Anniversary!): Tentative: Green America: Green Business Network
(Helping create economy that works for the planet and all the people on it), Green America business member
Note: Alternative: Illinois Recycling Association rep to discuss latest recycling technologies including what plastics are being recycled and questions, like Should we put lids back on glass bottles?
Oct. 7: Oaktober, Jim Anderson, Lake County Forest Preserve District
Nov. 7: EarthShare Opportunity, Thomas Jacks
Dec. 2: Home Brewing - Holiday Gift Idea
---
Join us at Duke's Alehouse & Kitchen, 110 N Main Street in Crystal Lake. Head upstairs at Duke's for info and inspiration, business and pleasure. Come talk about "greening" the future with others. Must be 21 to purchase alcohol - non-alcoholic drinks are available, of course!
We have an information table set up, and you are welcome to bring information about your green products and services each month to share.
Additional parking is available at the train station.
Contact us at: GreenDrinksMC@gmail.com or find us on FaceBook
Subscribe to our mailing list
* indicates required
Email Address *
First Name
Last Name
Privacy Policy: Your contact information will only be used to notify you of Green Drinks events or updates. It will not be sold or disclosed to third parties without your consent.
- Founded in North London in 1989, Green Drinks is now active in over 600 cities worldwide. -