Crystal Lake Green Drinks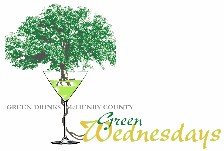 In McHenry County, the first Wednesday of each month is
Green Wednesday!
Our next gathering is August 6th, 2014, from 5pm - 7pm
Cynthia Kanner and Sue Jensen, from the Environmental Defenders' BYOBag committee, will discuss the group's initiatives to reduce and eventually eliminate the use of single-use plastic bags in our county. BYOBag was formed in the fall of 2013, has presented to the Algonquin/LITH Chamber of Commerce, the Algonquin Village Board and is preparing to meet with the McHenry County Council of Governments. Our efforts are supported by The McHenry County Community Foundation. The committee's logo was recently unveiled at Algonquin Village Hall and at the Crystal Lake parade. Look for it throughout the county in the months to come. Meet some of our committee members on August 6 and join us for a discussion about why we believe in "Bring Your Own."
Sidebar will be Duke's own Fruits and Veggies with Kids program.

Upcoming programs:
September 3rd: 5th Anniversary Celebration! Chicago Wilderness, Regional alliance that connects people and nature. More than 300 nonprofit and Corporate Council member organizations work together to restore local nature and improve the quality of life for all living things by protecting the lands and waters on which we all depend.

Suzanne Malec-McKenna is Executive Director of the Chicago Wilderness alliance. She aligns the strategies and actions of the alliance to advance its conservation mission, oversees operations, and works to sustain the alliance.
Suzanne has 25 years of experience in private industry, nonprofit and government positions. She has worked for organizations committed to natural resource protection, expansion and improvement; water quality; communications; environmental education, stewardship, and enforcement; and sustainability efforts, especially those that intersect with successful business development and community engagement. In 2012 she completed a Doctor of Philosophy in Communications at Northwestern University.
October 1st: Fox River Watershed program
---
Join us at Duke's Alehouse & Kitchen, 110 N Main Street in Crystal Lake. Head upstairs at Duke's for info and inspiration, business and pleasure. Come talk about "greening" the future with others. Must be 21 to purchase alcohol - non-alcoholic drinks are available, of course!

We have an information table set up, and you are welcome to bring information about your green products and services each month to share.
Additional parking is available at the train station.
To be added to our email list, send a note to: GreenDrinksMC@gmail.com or friend us on FaceBook

Privacy Policy:
Your contact information will only be used to notify you of Green Drinks events or updates. It will not be sold or disclosed to third parties without your consent.
- Founded in North London in 1989, Green Drinks is now active in over 600 cities worldwide. -