Crystal Lake Green Drinks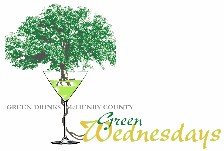 In McHenry County, the first Wednesday of each month is
Green Wednesday!
Our next gathering is May 7th, 2014, from 5pm - 7pm
What is a food cooperative and why do we need one in McHenry County?
Join us to learn about the co-op movement in the U.S., from its beginnings through the Depression, into the 1960s and its resurgence today. There are over 300 food co-ops in the U.S., with 100 more in the development stage. There are many advantages to a food co-op, including the fact that it is owned and run by its members, it features locally grown, healthy food, and it contributes to the local economy.
There is a grassroots movement to start a food co-op in McHenry County. Representatives from McHenry County Food Co-op will talk about plans to open our very own storefront in May, 2015. Community involvement is important, so come, learn, ask questions, get involved!
---
We will have natural lawn care demonstrations starting at 5pm, followed by our main presentation around 5:45pm
Billy Goat Lawn Care, Inc.
4611 Gregory St., Johnsburg, IL
Ringers Landscape Services, Inc.
1005 Rt. 22, Fox River Grove, IL
Brandon Losey, Designer & Sustainability Director
Mission: Connect clients with the environment and promote all the benefits of a meaningful, sustainable landscape.
---
Join us at Duke's Alehouse & Kitchen, 110 N Main Street in Crystal Lake. Head upstairs at Duke's for info and inspiration, business and pleasure. Come talk about "greening" the future with others. Must be 21 to purchase alcohol - non-alcoholic drinks are available, of course!

We have an information table set up, and you are welcome to bring information about your green products and services each month to share.
Additional parking is available at the train station.
To be added to our email list, send a note to: GreenDrinksMC@gmail.com or friend us on FaceBook

Privacy Policy:
Your contact information will only be used to notify you of Green Drinks events or updates. It will not be sold or disclosed to third parties without your consent.
- Founded in North London in 1989, Green Drinks is now active in over 600 cities worldwide. -