Crystal Lake Green Drinks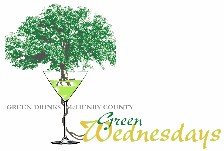 In McHenry County, the first Wednesday of each month is
Green Wednesday!
Our next gathering is November 5th, 2014, from 5pm - 7pm
"Citizens: Canaries of the Climate Justice Mine"
Dr. Sylvia Hood Washington will discuss how broad communities are at risk as we all become more affected by Climate Change. She will discuss the equitable treatment of all people with respect to development, implementation and enforcement of environmental laws and regulations.
Dr. Washington's Biography:
Oberlin College graduate
Case Institute of Engineering /Case Western Reserve University graduate
PhD-History of Science,Technology and the Environment
UIC School of Public Health – MPH Epidemiology alumnus
Editor in Chief of the International Environmental Justice Journal (Mary Ann Liebert Publishers)
Published author of several environmental books/chapters
Currently an appointed member of Govern Pat Quinn's Environmental Justice Commission
Co-Chair of the Illinois EPA's Environmental Justice Advisory Board
Board member of the Girl Scouts of Northern Illinois
Past board member of the Aldo Leopold Foundation
President of Environmental Health Research Associates, LLC that recently received the IL DCEO Ventures
program to create "green jobs" for low income and minority populations in Aurora.
---
Coming in December: Brent Hollengerg from Reclaimed will be speaking on Dec 3rd
---
Join us at Duke's Alehouse & Kitchen, 110 N Main Street in Crystal Lake. Head upstairs at Duke's for info and inspiration, business and pleasure. Come talk about "greening" the future with others. Must be 21 to purchase alcohol - non-alcoholic drinks are available, of course!
We have an information table set up, and you are welcome to bring information about your green products and services each month to share.
Additional parking is available at the train station.
Contact us at: GreenDrinksMC@gmail.com or find us on FaceBook
Subscribe to our mailing list
* indicates required
Email Address *
First Name
Last Name
Privacy Policy: Your contact information will only be used to notify you of Green Drinks events or updates. It will not be sold or disclosed to third parties without your consent.
- Founded in North London in 1989, Green Drinks is now active in over 600 cities worldwide. -