Crystal Lake Green Drinks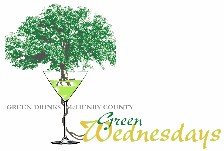 In McHenry County, the first Wednesday of each month is Green Wednesday!
Our next gathering is April 1st, 2015, from 5pm - 7pm
April 1st Green Drinks: The Cook County Coyote Project
Presenter: Chris Anchor, Senior Wildlife Biologist, Forest Preserve District of Cook County
Chris Anchor will present a program about urban coyotes. Chris has been a long-term partner, supporter, and teacher with the Cook County Coyote Project. When he began with the project in 2000, it was already running based on years of observations from him and others from his team at the Forest Preserve District of Cook County (FPDCC). Through his understanding of many wildlife species, he offers the research the advantage of a broad scope covering multiple elements of wildlife study. He is the "go-to" person to identify any number of rare wildlife species or provide extensive insight to a challenging research initiative. Anchor has been with the FPDCC since 1981 and in his current position since 1986.
The Forest Preserve's Coyote Study, started in 2000, is the largest continuous study conducted on urban coyotes to date. Coyotes have become a top predator in our urban ecosystem. This study monitors disease dynamics within the coyote population, as well as any behavioral changes that may increase aggression or boldness in coyotes that have negative consequences. Nearly 700 individual coyotes have been captured and tracked enabling us to discover that coyotes are able to navigate the urban environment quite well, and are providing ecological services that are not generally recognized by the public. The Cook County Coyote Project is conducted in partnership with The Ohio State University, Max McGraw Wildlife Foundation, and Cook County Animal and Rabies Control, among others. To learn more visit http://urbancoyoteresearch.com/.
May 6: Helping Monarch Butterflies Survive, Micheal Rizo, U.S. Forest Service staff (tentative)
June 3: "Finding Hidden Gems in Nature" for creating local adventures , John Kremer, McHenry County Conservation District
---
Join us at Duke's Alehouse & Kitchen, 110 N Main Street in Crystal Lake. Head upstairs at Duke's for info and inspiration, business and pleasure. Come talk about "greening" the future with others. Must be 21 to purchase alcohol - non-alcoholic drinks are available, of course!
We have an information table set up, and you are welcome to bring information about your green products and services each month to share.
Additional parking is available at the train station.
Contact us at: GreenDrinksMC@gmail.com or find us on FaceBook
Subscribe to our mailing list
* indicates required
Email Address *
First Name
Last Name
Privacy Policy: Your contact information will only be used to notify you of Green Drinks events or updates. It will not be sold or disclosed to third parties without your consent.
- Founded in North London in 1989, Green Drinks is now active in over 600 cities worldwide. -