Crystal Lake Green Drinks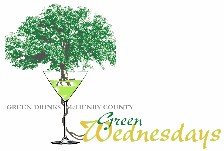 In McHenry County, the first Wednesday of each month is Green Wednesday!
Our next gathering is February 3, 2016, from 5pm - 7pm
Rick Johnson: McHenry County Chapter of Citizens' Climate Lobby (CCL)
Rick will explain the CCL concept of a revenue-neutral carbon fee on fossil fuels and what it means to McHenry County as well as the wider world. Climate scientists and economists alike agree this is the best first-step to reduce the likelihood of catastrophic climate change from global warming. CCL had a delegation of over 40 volunteers at COP20. Carbon pricing is cited in Paragraph 137 of the legal Decision of the COP to adopt the Paris Agreement.
Rick is co-leader of the McHenry County Chapter of Citizens' Climate Lobby (CCL), an international non-profit, non-partisan organization of mostly volunteers committed to grassroots advocacy focused on national policies to address climate change and trying to create the political will for a livable world.
Rick and his wife, Lois, have been active members of the education committee of the Environmental Defenders of McHenry County. Rick became involved with CCL because he believes they have the solution to addressing climate change that will appeal to our elected leaders in both political parties: a revenue-neutral carbon fee that will reduce carbon emissions and stimulate the economy.
Rick is a retired public school educator. Lois and he retired to McHenry County from Aurora a decade ago, and got involved immediately with environmental issues. They have three adult children and six grandchildren. With the help of their environmental activism and other parish volunteers, Ridgefield-Crystal Lake Presbyterian Church has become one of only several Earth Care Congregations in the denomination.
Come learn more about what CCL is doing to reduce our impact on the earth and make this a liveable planet
Tentative future topics:
Conservation at Home
Planning for a local adventure weekend
What happened at the COP21 Climate Summit and what you can do to reduce your carbon footprint

---
Join us at Duke's Alehouse & Kitchen, 110 N Main Street in Crystal Lake. Head upstairs at Duke's for info and inspiration, business and pleasure. Come talk about "greening" the future with others. Must be 21 to purchase alcohol - non-alcoholic drinks are available, of course!
We have an information table set up, and you are welcome to bring information about your green products and services each month to share.
Additional parking is available at the train station.
Contact us at: GreenDrinksMC@gmail.com or find us on FaceBook
Subscribe to our mailing list
* indicates required
Email Address *
First Name
Last Name
Privacy Policy: Your contact information will only be used to notify you of Green Drinks events or updates. It will not be sold or disclosed to third parties without your consent.
- Founded in North London in 1989, Green Drinks is now active in over 600 cities worldwide. -