Crystal Lake Green Drinks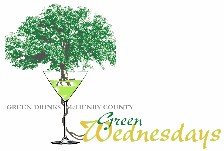 In McHenry County, the first Wednesday of each month is Green Wednesday!
Our next gathering is August 3, 2016, from 5pm - 7pm
The Importance of Native Bee Conservation, presented by Jean Foley
Bees are a vital part of our ecosystem and a number of factors including pesticides, habitat loss and climate change are contributing to their decline worldwide. The decline of bees has both economic and environmental implications. Economically, bees contribute billions of dollars annually to the global economy by pollinating over two thirds of the world's agricultural crops. Ecologically, the role of bee pollination plays a key role in ecosystem conservation by providing food and habitat for other species and contributing to healthy and diverse plant communities. It is essential that individuals and organizations are active in bee conservation efforts.
Jean has a BA from NIU with an emphasis on biology. She presently works at College of Lake County and will be finishing up an Associates Degree in Horticulture Production this May. Through her studies, she became very interested in native plants and pollinators. She did native pollinator research last summer for her Horticulture Practicum. From that research, she developed a powerpoint and a poster that she presented at last November's Wild One conference. She is very interested in sharing what she learned about native bees and native plants.
---
Tentative future topics:
September 7, 2016: Nature photography
October 5, 2016: Smart Grid
November 2, 2016: Rehabbing
December 7, 2016: Wine
---
Join us at Duke's Alehouse & Kitchen, 110 N Main Street in Crystal Lake. Head upstairs at Duke's for info and inspiration, business and pleasure. Come talk about "greening" the future with others. Must be 21 to purchase alcohol - non-alcoholic drinks are available, of course!
We have an information table set up, and you are welcome to bring information about your green products and services each month to share.
Additional parking is available at the train station.
Contact us at: GreenDrinksMC@gmail.com or find us on FaceBook
Privacy Policy: Your contact information will only be used to notify you of Green Drinks events or updates. It will not be sold or disclosed to third parties without your consent.
- Founded in North London in 1989, Green Drinks is now active in over 600 cities worldwide. -