Crystal Lake Green Drinks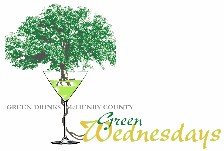 In McHenry County, the first Wednesday of each month is
Green Wednesday!
Our next gathering is April 2nd, 2014, from 5pm - 7pm

Become a Watershed Watchdog. Join us to learn how you can become part of the Friends of the Fox River Watershed Monitoring Network. Watershed Watchdogs play an important role as citizen-scientists collecting data from streams throughout the watershed. In addition, they become stewards and influence local water quality.
Two local retired teachers, David Rigby & Gary Swick will share what happens in the stream & beyond for over 1000 students annually. Both have been at for over 20 years, and can't give it up. Join us to learn about what makes us wag our tails, bark, and sometimes growl to protect our Fox River Watershed.
Join us at Duke's Alehouse & Kitchen, 110 N Main Street in Crystal Lake. Head upstairs at Duke's for info and inspiration, business and pleasure. Come talk about "greening" the future with others. Must be 21 to purchase alcohol - non-alcoholic drinks are available, of course!

We have an information table set up, and you are welcome to bring information about your green products and services each month to share.
Additional parking is available at the train station.
To be added to our email list, send a note to: GreenDrinksMC@gmail.com or friend us on FaceBook

Privacy Policy:
Your contact information will only be used to notify you of Green Drinks events or updates. It will not be sold or disclosed to third parties without your consent.
- Founded in North London in 1989, Green Drinks is now active in over 600 cities worldwide. -