Crystal Lake Green Drinks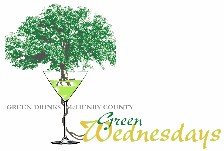 In McHenry County, the first Wednesday of each month is Green Wednesday!
Our next gathering is June 1, 2016, from 5pm - 7pm
Saving the Gulf of Mexico, Cleaning up Illinois' Rivers and Lakes
Cindy Skrukrud, Clean Water Program Director of the Sierra Club, Illinois Chapter will describe efforts underway at the national and state levels and in the Fox River watershed to clean up nutrient pollution. In 2015 Illinois released its Nutrient Loss Reduction Strategy which guides state efforts to improve water quality at home and downstream by reducing nitrogen and phosphorus levels in our lakes, streams, and rivers. Last December the Fox River Study Group adopted its Fox River Implementation Plan designed to resolve the Fox's problems with nutrient-caused algal blooms and low oxygen levels.
Skrukrud has worked on Illinois water issues for the Sierra Club for the past 17 years. Prior to that she was Executive Director of the Environmental Defenders of McHenry County. She continues to chair the Defenders' Water and Natural Resources Protection Committee and is a board member of the Nippersink Watershed Association. She also serves on the Illinois Nutrient Research & Education Council and on the board of Friends of Hackmatack National Wildlife Refuge.
References for the HAVE FUN! Local Adventure Ideas presented in May:
Local Forest Preserve/Conservation District Websites
Interesting Local Places:
Official State Visitor/Tourism Websites
Convention and Visitors Bureau
Municipality Websites
Chambers of Commerce
Main Street organizations
Local Historical Society
Mapping it:
Google maps
Mapquest
Strava: https://www.strava.com/
Map My Ride http://www.mapmyride.com/
Recommended Bike Route finding:
Ride Illinois: http://rideillinois.org/
Wiconsin Bicycle Advoicates: http://www.bfw.org/events/ride-across-wisconsin/
McHenry County Bicycle Advocates: http://mcbicycleadvocates.org/index.html
Strava Heat Map: https://www.strava.com/
Paddling Info:
Paddle away.com http://www.paddleaway.com
Miles Paddled: http://www.milespaddled.com/p/about-us.html
Paddle.net: http://www.paddling.net/
Paddle Clubs:
Prairie State Canoeist: https://prairiestatecanoeists.wildapricot.org/
American Canoeing Association: http://www.americancanoe.org/
Illinois Paddling Council: http://www.illinoispaddling.info/
---
Tentative future topics:
July 6, 2016: Ticks
August 3, 2016: The Importance of Native Bee Conservation, presented by Jean Foley
September 7, 2016: Nature photography
October 5, 2016: Smart Grid
November 2, 2016: Rehabbing
December 7, 2016: Wine
---
Join us at Duke's Alehouse & Kitchen, 110 N Main Street in Crystal Lake. Head upstairs at Duke's for info and inspiration, business and pleasure. Come talk about "greening" the future with others. Must be 21 to purchase alcohol - non-alcoholic drinks are available, of course!
We have an information table set up, and you are welcome to bring information about your green products and services each month to share.
Additional parking is available at the train station.
Contact us at: GreenDrinksMC@gmail.com or find us on FaceBook
Privacy Policy: Your contact information will only be used to notify you of Green Drinks events or updates. It will not be sold or disclosed to third parties without your consent.
- Founded in North London in 1989, Green Drinks is now active in over 600 cities worldwide. -