Crystal Lake Green Drinks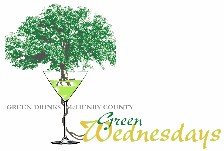 In McHenry County, the first Wednesday of each month is
Green Wednesday!
Our next gathering is September 3rd, 2014, from 5pm - 7pm
McHenry County's amazing natural resources - through the Chicago Wilderness lens


On Wednesday, September 3rd, the community is invited to help celebrate McHenry County Green Drinks fifth anniversary at Duke's Alehouse & Kitchen, 110 N. Main St. in Crystal Lake. For the anniversary, there will be a special presentation by Chicago Wilderness Executive Director, Suzanne Malec-McKenna. She will discuss the work throughout the Chicago Wilderness region, highlighting McHenry County work that strongly contributes to the region's goals.

There will also be special give-aways that evening, including natural landscape prints featuring local artist, Nancy Williamson, and coupons for Dukes Alehouse & Kitchen. The complementary appetizers that evening will include specially prepared selections.

Suzanne Malec-McKenna, Executive Director of the Chicago Wilderness alliance, will share with the attendees the progress its regional alliance of 300 organizations has made to restore local landscape, bring back endangered species and improve the quality of life. Through the initiative, Leave No Child Inside, the alliance is also providing places and programs for families to connect with nature. Access to nature is important for healthy childhood development.

Malec-McKenna has 25 years experience in working for organizations committed to natural resource protection; water quality; environmental education; stewardship and sustainability. Recently, she served as Deputy Commissioner and Commissioner for the City of Chicago's Department of Environment. During this time, she helped create and implement the Chicago Climate Action Plan, the Chicago Conservation Corps, Greencorps Chicago and the City's Calumet Initiative.

The Green Drinks network was founded in North London, England in 1989 and now is active in over 600 cities worldwide. Interested public is always welcome to attend the McHenry County Green Drinks monthly event. Each month there is a short presentation on a different eco-topic plus displays and demonstrations. Also, information about upcoming eco-events and green products and services is made available. Non-alcoholic and alcoholic drinks are available plus a featured "green drink". Sign up for the email alerts to learn about the topic of the month.

For more information, please email GreenDrinksMC@gmail.com.

Upcoming programs:
October 1st: Fox River Watershed program
---
Join us at Duke's Alehouse & Kitchen, 110 N Main Street in Crystal Lake. Head upstairs at Duke's for info and inspiration, business and pleasure. Come talk about "greening" the future with others. Must be 21 to purchase alcohol - non-alcoholic drinks are available, of course!

We have an information table set up, and you are welcome to bring information about your green products and services each month to share.
Additional parking is available at the train station.
To be added to our email list, send a note to: GreenDrinksMC@gmail.com or friend us on FaceBook

Privacy Policy:
Your contact information will only be used to notify you of Green Drinks events or updates. It will not be sold or disclosed to third parties without your consent.
- Founded in North London in 1989, Green Drinks is now active in over 600 cities worldwide. -