Crystal Lake Green Drinks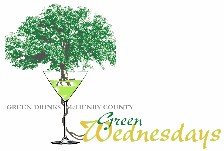 In McHenry County, the first Wednesday of each month is Green Wednesday!
Our next gathering is MARCH 4th, 2015, from 5pm - 7pm
ENVIRONMENTAL ADVOCACY IN ILLINOIS FOR 2015
About the presenters:
Elizabeth S. Kessler, MBA, CPRP and Executive Director of the McHenry County Conservation District will talk about advocacy in action in the recent passage of SB3341/PA 11-1168
Dr. Cindi Skrukrud from the Illinois Sierra Club will talk about current and future legislative initiatives.
Kim Hankins and Anne Basten will round out the discussion with some other pointers they've picked up through weekly work with the Illinois Environmental Council.
---
Join us at Duke's Alehouse & Kitchen, 110 N Main Street in Crystal Lake. Head upstairs at Duke's for info and inspiration, business and pleasure. Come talk about "greening" the future with others. Must be 21 to purchase alcohol - non-alcoholic drinks are available, of course!
We have an information table set up, and you are welcome to bring information about your green products and services each month to share.
Additional parking is available at the train station.
Contact us at: GreenDrinksMC@gmail.com or find us on FaceBook
Subscribe to our mailing list
* indicates required
Email Address *
First Name
Last Name
Privacy Policy: Your contact information will only be used to notify you of Green Drinks events or updates. It will not be sold or disclosed to third parties without your consent.
- Founded in North London in 1989, Green Drinks is now active in over 600 cities worldwide. -