East Herts Green Drinks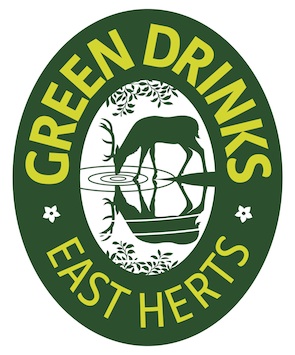 (logo: thanks to Barney Bryant)
Welcome to East Herts Green Drinks
The present Government has at various times pledged itself to a green agenda, but has often dragged its heels when it actually comes to 'cutting our carbon'. So it depends on ordinary people like you and me to keep them up to the mark by calling for a fossil-free future which also conserves all forms of life on our beautiful blue-green planet.
Most recently, our country signed up fully to the promises made at the December 2015 Paris Climate summit and we need to ensure those are kept. At the same time we must make our corner of the world as sustainable as we can. That's where Green Drinks comes in!
Centring on Hertford, we are an established friendly group so please join us for networking, news, chat and new friends and be part of a growing global network where local people plan and build a sustainable future. We can put you in touch with sources of specialised advice on eg home-grown energy, home insulation, and other green groups in the area. We were founded in September 2008, and number around a 100 (though not all attend at once!); do join us.
We meet on the 4th Thursday of each month (2nd Thursday in December):
At: The White Horse Pub, Hertford
(33 Castle Street, Hertford SG14 1HH)
- for a map, go to http://tinyurl.com/5pkb7j -
We start downstairs, in the bar on the right, from 8pm and usually adjourn upstairs soon after
Our 2017 meeting dates, all Thursdays, are :
To contact me, or if you'd like a regular reminder and the occasional piece of good, often local, news, please drop me an email at
easthertsgd@virginmedia.com
and I'll add you to our mailing list. (Similarly, to unsubscribe send me an email with 'Unsubscribe Green Drinks' in the subject line.)
If you have a friend or colleague who you think might be interested, do please bring them along too.
I look forward to meeting you at our next event!

Dick Warn (Coordinator)
Do come and join us!