Helsinki Green Drinks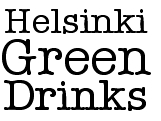 Helsinki Green Drinks / Aalto Green Drinks
NODUS TALKS #4: OPEN DESIGN. OPEN SOCIETY?
with Cindy Kohtala and Jason Selvarajan
Thursday 15 June 2017 16-18.00
Design Museum, Korkeavuorenkatu 23, Helsinki
The NODUS TALKS events series is organized by NODUS Design for Sustainability Research Group of Aalto University, bringing together researchers and practitioners on topics relevant to design, innovation and sustainability. Presentations will be followed by a panel discussion, both held in English.
The talks are free but places are limited.
Please register via Eventbrite:
Cindy Kohtala is Postdoctoral researcher in Aalto University. She has examined how digital fabrication communities in FabLabs and makerspaces address environmental issues. Open Design relates to both designing things as well as communities: self-organizing groups who decide what to design and how to do it.
Jason Selvarajan has studied Environmental Engineering. His water recycling and energy recovering shower filtration system called Showerloop exemplifies open hardware that can be adapted almost everywhere. Its various prototypes have been displayed in events such as Open Source Circular Economy Days Helsinki and POC21 near Paris, France.
hkigreendrinks [at] yahoo [dot] com
HELSINKI GREEN DRINKS / HELSINKI EKO-DRINKKIT (scroll down for English)
Green Drinks on vuodesta 1989 Britanniasta maailmanlaajuiseksi kasvanut paikallisverkosto jossa vihreistä asioista kiinnostuneet eri alan ihmiset tapaavat vaihtamaan vihreitä ajatuksia muutaman oluen parissa. Ennalta asetettua agendaa ei ole, vaan tarkoitus on tarjota mahdollisuus säännölliseen ja vapaamuotoiseen ajatustenvaihtoon ja seurusteluun sekä tuoda yhteen eri alojen ihmisiä yhteisen vihreän teeman ympärille.

Milloin? Missä? - noin kerran kuukaudessa. Erityiset päivät / aikat mukaan vierailevia.
Kenelle? - Green Drinks on tarkoitettu kaikille ympäristöstä, ekologiasta ja kestävästä kehityksestä kiinnostuneille ja vihreiden asioiden parissa työskenteleville.
Miksi? - Tapaamaan uusia ihmisiä mielenkiintoisten aiheiden ympärille, kuulemaan uutisia, kehittämään yhteisiä projekteja jne.

Saat tietoa tulevista Green Drinks tapahtumista liittymällä postituslistalle. Yhteystietojasi käytetään pelkästään Green Drinks tapahtumista tiedottamiseen, eikä luovuteta eteenpäin tai käytetä muuhun tarkoitukseen.
Voit tutustua muihin Green Drinks kaupunkeihin www.greendrinks.org -sivuilla. Jos sinulla on kysyttävää Helsingin Green Drinksin toiminnasta voit ottaa yhteyttä Cindy Kohtalaan osoitteessa hkigreendrinks [at] yahoo [dot ] com

Tervetuloa drinkille!
-Helsingin Green Drinks
Facebook: www.facebook.com/groups/7369812466/
Aaltolaiset: Voit liittyä AaltoGreenDrinks postituslista, mene tänne: https://list.aalto.fi/mailman/listinfo/aaltogreendrinks
-----

HELSINKI GREEN DRINKS welcomes you!
When: about once a month. Special days/times and places according to special guests.
Where: cafés, pubs, meeting rooms, offices...
Who: anyone who works with or is interested in sustainability issues (green, environmental, ecological...). Aalto Green Drinks is a special chapter for Creative Sustainability students and Aalto University sustainability researchers. Anyone and EVERYONE - inside and outside of Aalto - is welcome to join us!

Why: to make contacts for projects or for mentoring, to drink beverages, to socialise, to meet others and find out what they do in life, to share news and gossip, to show off portfolios and CVs...

What: Green Drinks is an international phenomenon. Events are informal, organic, and friendly, come and socialize and network.

To join the Helsinki Green Drinks e-mail list, please contact Cindy Kohtala at hkigreendrinks [at] yahoo [dot ] com . This is for Green Drinks invitations and reminders only. We will not share your name or address with anyone. Use the same address if you have any questions. I'll be happy to answer them.
Facebook group: www.facebook.com/groups/7369812466/
To subscribe to the separate AaltoGreenDrinks email list, go here:
https://list.aalto.fi/mailman/listinfo/aaltogreendrinks

FAQ:

Do I have to drink something green? No, yellow, orange, clear, brown, blue, it's up to you. You don't even have to drink. Just come ready to talk and meet like-minded people.

Do I have to be a member of the Green Party? No, but Greens are most welcome. This is not politically motivated. The key theme is sustainability in general, from any perspective.
HELSINKI GREEN DRINKS
historia / history of presentations:
**
to 23.03.2017 NODUSTalks #1 Energy Citizens and Open Knowledge, with Sampsa Hyysalo and Lilli Linkola
ke 28.10.2015 Changing Helsinki? book launch, with Eeva Berglund, Cindy Kohtala, Pia Ilonen
to 21.8.2014 Design for happiness: lecture and conversation with Ruth Mugge, researcher, TU Delft, the Netherlands
to 6.6.2013 sustainable water, Global GovJam, Aalto Lab Mexico (free discussion)
la 15.12.12: Repair Cafe (in cooperation with Pixelache)
ke 28.11.12: 'Symptoms of the Occident: Denial of the Limit' presentation/discussion by Giorgio Tricarico, Jungian analyst.
Special Summer Series: Sustainable Maker Culture/Kesäohjelmaa: Tee-Se-Itse -tapahtumat, World Design Capital Paviljongissa/Pavilion/Paviljongen:
ti 04.09.12: Researcher Kristiina Soini-Salomaa (FIN) presents alternative images of the future of craft and design.
ti 21.08.12: Mikko Laajola (FIN) on the Res Agri (Resilient Technologies in Urban Agriculture) initiative and peer-to-peer learning.
pe 06.07.12: Peter Troxler (NL) and his view on fab labs and maker spaces.
to 14.06.12: Massimo Menichinelli (IT/FIN) on Open Design.
to 31.05.12: Jon Sundell (FIN) on the Made in Kallio collective and collaborative making.
to 19.04.12: 'BEEF2012' presentation and discussion with designer-researcher Seungho Lee (KO/FI)
to 22.09.11: 'Design Futuring and Redirective Practice' presentation and discussion with Nora Kinnunen (AUS)
to 04.08.11: Special Green Drinks, with Pixeluniversity and Open Data/Design Meetup: Anu Määttä about FabLabs and open design
ke 25.05.11: Aalto Green Drinks at Kipsari
to 20.08.09: Wendy Brawer kertoo Green Map System:sta/ Wendy Brawer and Green Maps
ti 12.05.09:

eco-kirjakerho: mikä on paras/suosikki eko-kirja?

/ eco-book club: what are your recommended eco-topic books?
ti 14.04.09: vaihtoehtoinen talousmallit / alternative economy models, worker empowerment
ti 10.03.09: free discussion
ti 10.02.09 ekologinen lukutaito: sään visualisointi / Ecological Literacy: Artistic Visualisations of Weather Data
ti 09.12.08: "Greenwash": viestintä ja kestavän kehitys / CSR, corporate communications and greenwash
ti 11.11.08: elämäntapojenmuutos, asenne ja käyttätyminen / encouraging sustainable lifestyles, influencing behaviour and attitude change
ti 14.10.08: yhteistyö ja yhteissuunnittelu / co-design and collaborative work
ti 09.09.08: free discussion
ti 10.06.08: online green games and quizzes
ti 13.05.08: Building Our Future: the Baltic Sea - an open discussion using a "layered analysis" technique, facilitated by Cindy Kohtala
ti 08.04.08: Future Impacts, a Futures Wheel exercise and discussion on impacts and long-term effects (englanniksi ja suomeksi)
ti 11.03.08: Dodo:n kansainvälinenkehitysprojektit (Madagascar) / the group Dodo's international development projects (Madagascar).
ti 12.02.08: Dodo:n kansainvälinenkehitysprojektit (Mali)/ the group Dodo's international development projects (Mali).
ke 12.12.07: Andrew Paterson (englanniksi), 'Virtuaali Vihreaä' / 'The Dear Green Virtual Place'. Lisää: http://agryfp.info/
ke 14.11.07: keskustelu kansalaisjärjestöliikkeen nimestä
ke 10.10.07: aihe on vapaa! Speaker's Corner!
ke 12.9.07: Dodo, Megapolis tapahtuma / Dodo and the consumption seminar Megapolis
ke 13.6.07: Celia Peterson: 'E-waste and recycling'. (perutettu / postponed)
ke 9.5.07: keskustelu, James Lovelock:in kirja "The Revenge of Gaia" / discussion on the book 'The Revenge of Gaia' by James Lovelock.
ke 14.3.07: Harri Valpola: 'Bisnestä energiansäästön rahoituksesta' / discussion on the business of negawatts.
ke 14.2.07: Ernst Mecke: 'Human Behaviour'. Hyvää Ystävänpäivää, ja Hyvää syntymäpäivää Helsinki Green Drinks:ille! The first anniversary of HKI Green Drinks!
ke 10.1.07: Celia Peterson: 'The Natural Step'.