Roswell-Alpharetta Green Drinks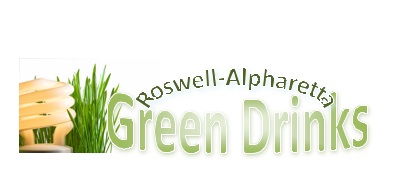 Who We Are
Roswell-Alpharetta Green Drinks is a social and professional networking organization for the area's green minds. A place for individuals interested in green, sustainable, and conscious living or business practices to meet up, network, and more!
We strive to support local restaurants offering organic food and beverage options for each gathering.
Come Join Us!
Thursday, February 16, 2012
This month we're fortunate to have Karin Zarin, the Account Manager of RecycleBank, share with us the innovative recycling program her company offers to Alpharetta residents and beyond with projected expansion into other Atlanta areas, plus on-line sustainable education and incentives . For more information please visit www.RecycleBank.com.
Karin has lots of experience in the green industry, including former Executive Director of Keep Sandy Springs North Fulton Beautiful and Recycling Manager for the City of Atlanta.
We hope you'll decide to join us and learn about how you can be rewarded for your efforts to make our planet greener!
Date/Time:
6:30pm Presentation & Discussion
Location:
Hope you to see you there!
Contact Us
Have a suggestion for a venue?
Want to join our mailing list?
Email Jann at guidedmotion @ gmail . com [remove spaces]