Brighton Green Drinks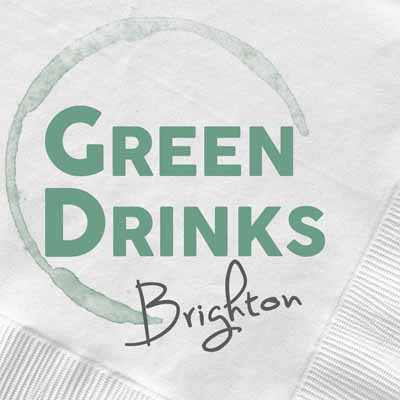 February 2015
Hi all, the next meeting will be on the 25th March at the Blue Man, the speaker will be Seb Handleman from East Sussex Credit Union.
To keep the Green Drinks meetings sustainable a donation of at least £2 each is needed (the group has running costs such as the website fees, although the organisers give their time for free).
We would ask you also to buy normal priced refreshments please as the venue is not charging this time, most venues do, otherwise future meeting prices will increase substantially as we will have to pay for venues.
October 2014
New Day! New Venue! New Format!

This month we have two excellent speakers, Marek Kohn (@MarekKohn) and Alastair Goode to discuss the message of climate change.

We now all agree that some sort of climate change is happening and it will have an impact on us at some point but as much as we agree on that, very little seems to happen to attack the problem. The discussion will lead on from that starting point, asking such questions as; What sort of message best delivers the concept of climate change to the general public?, How can the average person on the street feel engaged with change process that is needed to happen? and What sort of political/democratic structures are needed to address the issue successfully?
Marek Kohn [ http://homepage.ntlworld.com/marek.kohn/ @marekkohn ] writes about the implications of scientific thinking for ideas about human nature and society. His books include A Reason for Everything: Natural Selection and the English Imagination, Trust: Self-Interest and the Common Good, As We Know It: Coming to Terms with an Evolved Mind, The Race Gallery: The Return of Racial Science, and also Dope Girls: The Birth of the British Drug Underground [ http://dopegirls.wordpress.com/ ]. His most recent book, Turned Out Nice, explores how a changing climate could reshape national identities and relationships across the British Isles and Europe as a whole.

Alastair Goode has worked in media research for 10 years applying academic psychology to the profession. He has worked extensively on how new and old media work together. He has won about 15 industry awards from the MRS, Media week and MRG, and has been on the judging panel for the IPA awards, and done a lot of work for the TV industry including designing the template for TV sponsorship.

The talks kick off at 7pm, followed by a Q&A, and drinks after.

This event is aimed at everyone interested in the subject, an open mind and a willingness to engage in debate is far more important than any prior knowledge. All welcome, please spread the word and why not bring a friend.

Green Drinks is a monthly occurrence

http://www.meetup.com/brighton-green-drinks