Silicon Valley Green Drinks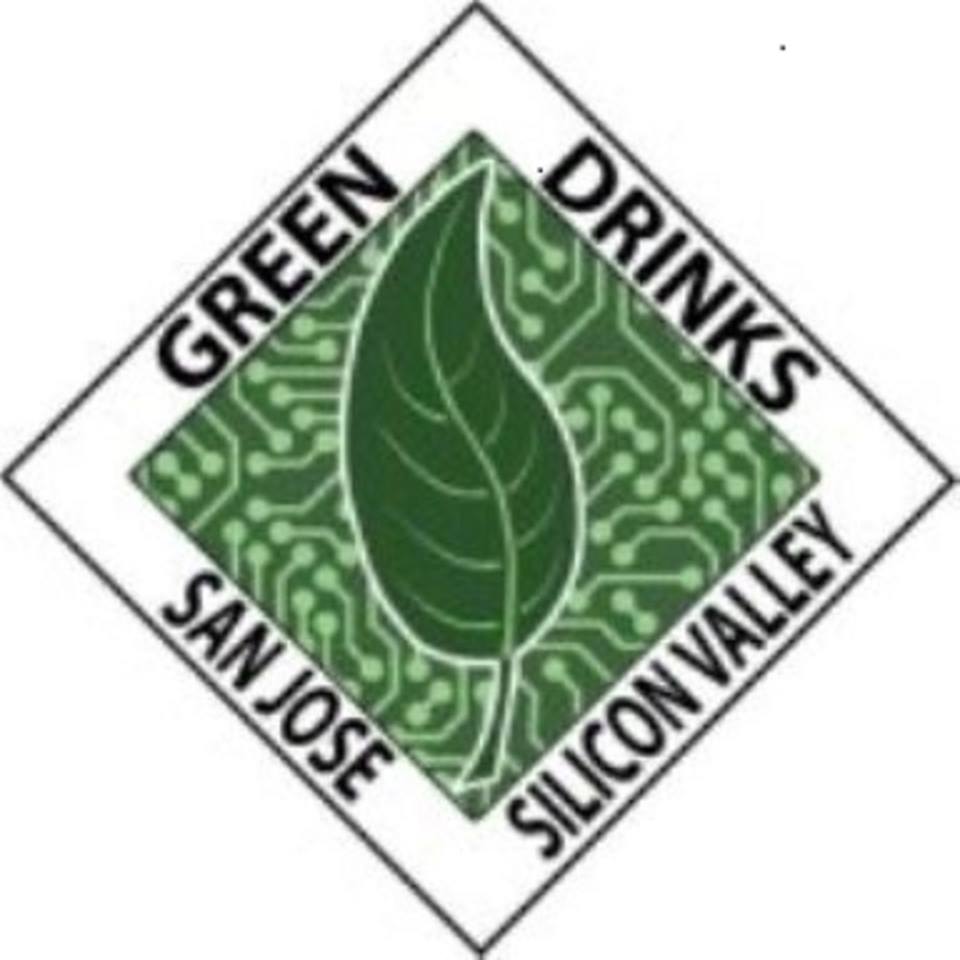 San José/Silicon Valley Green Drinks
1st Fridays, 5:30-8:00pm Downtown San Jose
Green Drinks usually meets at the Fairmont Hotel. See our Facebook page for location and speaker information.
Since 2005, Green Drinks Silicon Valley has been hosting lively* monthly networking events to connect and unite the environmental community of Silicon Valley. These events are friendly and upbeat. People have found employment, made friends, developed new ideas, and had moments of serendipity.** It's a force for the good that has spread to almost 800 chapters around the world! Join us for our next event in San José.
Come unwind for the weekend with your fellow environmentalists.
Since you will already be Downtown, near the SoFA District action, walk over to one of the multiple art venues open free to the public, starting at 8pm as part of the ever-popular South First Fridays Art Walk.
* Occasionally lively, at least, especially recently, under livelier management.
** Serendipity moments subject to availability; please come early.
Fairmont San Jose, 170 South Market Street, San Jose
The Fairmont is near the VTA Light Rail line, with nearby parking. See the
Downtown Map
for free and validated parking.
South FIRST FRIDAYS
art walk starts at 8:00 pm with 14 participating venues open free to the public in the SoFA District (So. First Street between San Carlos and E. Reed streets). Eulipia Restaurant is in the middle of the action, making it easy to walk over to the art venues after some great green networking.
---
There will be notification on Facebook and through our LinkedIn group if there is a change of venue or a program to announce. If you want to suggest a program or venue, work with team at this Green Drinks node, or receive meeting notifications, go to our Facebook group. You may also receive notices through our LinkedIn group.
---
---
---
Links to upcoming events:
Links of the semester:
San Jose State University
Department of Environmental Studies, San Jose State University
Founded in 1970, the focus of the Environmental Studies Department is on a rigorous, systematic, and integrated approach to the study, management, and solution of environmental problems and issues. Upon completion of the degree, students have solid preparation for making substantial contributions to this expanding and vital field.
Center for the Development of Recycling, San Jose State University
CDR/SJSU is the recycling hotline for Santa Clara County. CDR serves the County's 1.8 million people and the 15 cities in which they live. CDR's mission is to create and share information to facilitate the diversion of materials from disposal, while training students to become IWM professionals. Students, managed by faculty, cost-effectively serve the community by earning academic credit in exchange for staffing the County Recycling Hotline and developing the county's recycling and reuse guides.
Mineta Transportation Institute, San Jose State University
MTI focuses on international surface transportation policy issues as related to three primary responsibilities: research, education, and technology transfer.
Santa Clara University
Environmental Studies Institute of Santa Clara University
The Environmental Studies Program seeks to educate students about the complex interrelationship between human beings and nature and to inspire students to become concerned citizens influencing sound environmental policy decisions.
DeAnza College
De Anza College Environmental Studies Department
De Anza College's Environmental Studies Department integrates physical, biological, human, socioeconomic and political principles. Formal and non-formal methods of teaching help students acquire the basics of this field. These include a scientific foundation, an understanding of social and economic concepts, and an awareness of the behaviors that protect or damage the earth and its resources.
Students in this department are trained for exciting career opportunities in some of the fastest growing fields in the country. Participants range from entry-level students to already trained professionals. Highly qualified faculty and experienced students make this a rich learning opportunity.
Kirsch Center for Environmental Studies
The Kirsch Center for Environmental Studies commits to environmental protection as a fundamental objective and integral part of educating our students and the public. Through an interdisciplinary approach we will partner with industry, government, utilities and other academic institutions.
The new Kirsch Center for Environmental Studies is an opportunity to showcase energy efficiency and renewable energy technology and will be one of the first outstanding examples of a sustainable "green" building in the California Community College system. It will provide the momentum for other colleges to design and construct sustainable buildings as well as use these standards on renovation projects.
Stanford University
Department of Civil & Environmental Engineering, Stanford University
Environmental Planning & Management: The Program in Environmental and Water Studies includes Ph.D. research activities in environmental planning and management. This research is focused in two areas: (1) environmental policy implementation, and (2) management of water supply and wastewater disposal systems. Much of this research relates to policies and programs in developing countries.
Environmental Biotechnology: Researchers of the Stanford Environmenal Biotechnology program investigate and apply advanced principles of biology and engineering for the solution and prevention of environmental problems. A specific focus is the use of microorganisms to control the quality of groundwater, surface and waste water, and of coastal environments. The approaches of the multidisciplinary research team range from fundamental molecular studies to applied large field remediation projects. [partial list]
Stanford University EHS/Environmental Programs The Environmental Programs are responsible for managing programs that minimize the environmental impact of the activities conducted at Stanford University, including hazardous waste management, chemical spill response, emissions control.
Department of Geological & Environmental Sciences, Stanford University
The research in GES is wide-ranging and often interdisciplinary. The categories listed here are not rigid divisions; rather, they are intended to illustrate the breadth of faculty research interests within the department: Aqueous & Surface Geochemistry, Soil Science; Marine Geology & Oceanography; Sedimentology, Paleontology, Paleoclimatology; Structural Geology, Geomechanics & Tectonics; Petrology, Mineralogy, & High-T Geochemistry; ...
Center for Environmental Science and Policy
CESP began as a specialized research center within the Freeman Spogli Institute for International Studies (FSI) in September 1998. It evolved as an outgrowth of the more informal Global Environmental Forum, which had existed within FSI for nearly a decade. CESP is also an affiliated center of the Stanford Institute for the Environment (SIE). Formed in 2004, SIE is Stanford's principal initiative for assessing environmental science, technology, and policy at local, national, and global scales.
Woods Institute for the Environment (Stanford)
The Woods Institute for the Environment mobilizes faculty from all of Stanford's schools to address the critical environment and resource problems of our age. [links to all Stanford environmental programs]
San Francisco State University
MBA Emphasis in Sustainable Business
This emphasis provides students with an in-depth appreciation of the environmental and social dimensions of conducting business in a global market. Three aspects of sustainable business that improve a firm's long-term performance will be emphasized: managing risks (regulatory, reputation, litigation, market), values-driven leadership, and recognizing market opportunities created by environmental and social challenges. Learning outcomes include how to articulate the business case for sustainability, develop and lead internal and external coalitions needed to drive organizational change, and implement metrics for measuring progress and providing accountability.
University of San Francisco
Master of Science in Environmental Management
The Master of Science in Environmental Management is designed for graduate students and working professionals who seek or hold careers in the environmental field. The goal of this science-based management program is to enhance and broaden the skills and knowledge necessary to meet the demands and changes of the environmental marketplace - in industry, government and public agencies, nonprofit and non-governmental organizations and the consulting sector.
The Environmental Studies Program is interdisciplinary in nature, reflects the current state of the field, recognizes the relationship between human behavior and nature in ecological issues, and responds to the Jesuit call to promote environmental justice and ethical stewardship of the natural world.
The undergraduate major in Environmental Science is an integrated interdisciplinary curriculum of basic science, designed to give students a broad perspective on the environment. Courses in the major concentrate on understanding the current environmental issues facing human society through a diversity of lecture, laboratory and field experiences. A degree with a major in Environmental Science from the University of San Francisco supports career options in a variety of areas including: technical and management aspects of air and water quality, hazardous waste management, environmental health, and energy, land use management and conservation of natural resources. This curriculum also provides the basic course work necessary for admission to graduate school programs. Electives may be used to enhance preparation for specific graduate programs.
Presidio School of Management
Presidio School of Management offers an MBA program in Sustainable Management integrating social and environmental values within every course. Since 2003, the program has succeeded as a collaborative learning community committed to human, natural and financial sustainability.