Santa Cruz Green Drinks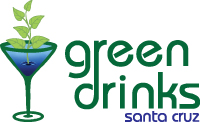 Next Date: Tuesday, May 7th, 2013
Time: 5:30-7:30 p.m.
Location: Estriatus Law Offices
2222 East Cliff Drive, Ste. 216, Santa Cruz

Chris Khan of JVMB will be the featured speaker.
Joint Venture Monterey Bay is a joint venture partnership that facilitates and promotes sustainable development and innovation across all sectors in the Monterey Bay tri-county region by developing a network of sustainability-related interests and identifying opportunities for synergy, leverage, and collaboration across traditional boundaries.
JVMB envisions a vibrant and resilient regional economy based on competitive advantages of the region and known as the global showcase for sustainable development and innovation. We envision a highly collaborative, integrated region, cross-marketed within the region and co-marketed with a common identity outside the region as a world-class sustainable agriculture, tourism, and conference destination. Known as the place to visit, year round, for conferences, events, tours, vacations training, and business meetings around clean, green, and sustainable solutions, businesses will bring innovative sustainable solutions from around the world to be demonstrated at sites throughout the region. Visitors will be shuttled seamlessly to business and tourism sites of interest on a sustainable regional ultra light rail transportation system to improve regional traffic flow (visitor and commute) while reducing cars on the road and emissions in the air.
Their mission, in support of a thriving and resilient regional economy, is to facilitate and promote inclusive regional collaboration around sustainable development and innovation through initiatives supported by networks of sustainability-related interests across all sectors in the Monterey Bay region.
If you have questions or comments, please contact us at greendrinks@ecoact.org.
Also check out Green Drinks Monterey:
http://www.greendrinks.org/CA/Monterey
Explore other green events in Santa Cruz through EcoCruz: www.ecocruz.org

Join the Green Drinks Santa Cruz Facebook member page: https://www.facebook.com/pages/Green-Drinks-Santa-Cruz/

Green Drinks are being held around the world! Find out where: www.greendrinks.org