Santa Cruz Green Drinks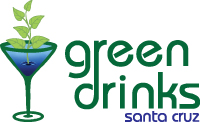 Next Date: Tuesday, December 3rd, 2013
Time: 5:30-7:30 p.m.
Location: Homeless Garden Project Holiday Store 110 Cooper St. Suite 100 G (in the breezeway) in downtown Santa Cruz.

Kate Pearl, Volunteer and Community Outreach Coordinator for the Homeless Garden Project (and also Green Drinks Organizer) will be speaking about the project and volunteer opportunities. This will be a wonderful chance to get to know all aspects of the organization.

The Homeless Garden Project is a job training and transitional employment for men and women experiencing homelessness on a 3.5-acre organic farm on the westside of Santa Cruz.
http://www.homelessgardenproject.org/

If you have questions or comments, please contact us at greendrinks@ecoact.org.
Also check out Green Drinks Monterey:
http://www.greendrinks.org/CA/Monterey
Explore other green events in Santa Cruz through EcoCruz: www.ecocruz.org

Join the Green Drinks Santa Cruz Facebook member page: https://www.facebook.com/pages/Green-Drinks-Santa-Cruz/

Green Drinks are being held around the world! Find out where: www.greendrinks.org