Santa Barbara Green Drinks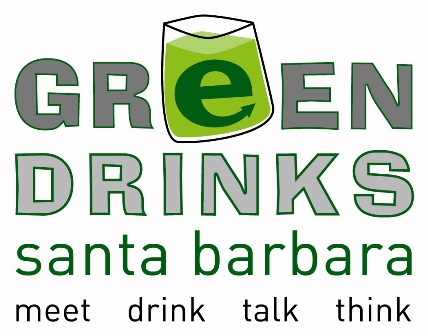 WHEN:
Tuesday, April 1, 2014
6:00pm until 9:00pm
FREE
WHERE (rotates)
Lobero Theater Courtyard
Santa Barbara Earth Day!!

A Green Drinks Benefit
Please join Santa Barbara Green Drinks and LoaTree as we host our 4th Annual Green Drinks benefit for the Community Environmental Council's Santa Barbara Earth Day Festival! Join us on Tuesday, April 1st from 6-9pm at the Lobero Theatre's courtyard as we kick off a month's worth of activities leading up to the big Earth Day weekend on April 26/27. RSVP here.
Wanna let your inner artist shine? How about getting funky with Outrageous Photobooths and your friends? Do this and more! We've got music, food and drink, and other activities that'll put a smile on your face. Plus, you're supporting Santa Barbara Earth Day, the biggest eco/education party around. Here's what's on tap!
MUSIC
Adam Phillips and Ray Pannell
FOOD & DRINK
RAFFLE
Arbor Santa Barbara Skateboard
Farm to Table Earth Day Dinner
Live Community Painting with Whitney Castro
Outrageous Photo Booth
Proceeds from Green Drinks support the Community Environmental Council's (CEC) Annual Earth Day Festival. In addition to serving as Earth Day's hosts, CEC works to identify, advocate, raise awareness, and develop effective programs to solve the most pressing environmental issues that affect the Santa Barbara region. CEC currently focuses its energy on building a community-based movement that transitions the region off of fossil fuels in one generation — Fossil Free by '33.To learn more, visit www.cecsb.org or www.sbearthday.org.
Cost of entry is $20/person. Tickets available at DOOR ONLY. Entry includes hors d'oeuvres courtesy of the Isla Vista Food Coop. Drinks can be purchased separately.
Questions? Comments? Email Riley Hubbell at riley@loatree.com.
HOW:
Walk, cycle, bus, carpool, skate, rollerblade, wind-skate, unicycle, pogo stick, sail-bike, cartwheel, hop, skip, or jump.
WHO:
Anyone working on environmental issues or studying them, people interested in sharing ideas and networking in a green way, or anyone else interested in making the world a greener (better) place...the more the merrier!
WHY:
For fun, networking, sharing a drink at the end of the day, inspiration, business and pleasure.
NEW TO GREEN DRINKS?:

Just go up to someone and say hello, and you'will be made welcome


REMIND:

To get on this email circulation list, send an email to:
roots@loatree.com

If you are invited by a friend to come, the more the merrier, but please send along your e-mail address to
roots@loatree.com
so that you will receive future invitations from the organizers at LoaTree.com.

STATUS:
Informal, self-organizing network since...April-2007!!
GLOBAL:

Now active in OVER 600 Cities worldwide!
UK | USA | Canada | Australia | Germany | Sweden | The Netherlands | Argentina | Belgium | Brazil | Chile | China | Czech Republic | Denmark | Finland | France | Hong Kong | India | Ireland | Italy | Japan | Malta | Mexico | New Zealand | Poland | Puerto Rico | South Africa | Switzerland

URL: http://www.greendrinks.org