San Rafael Green Drinks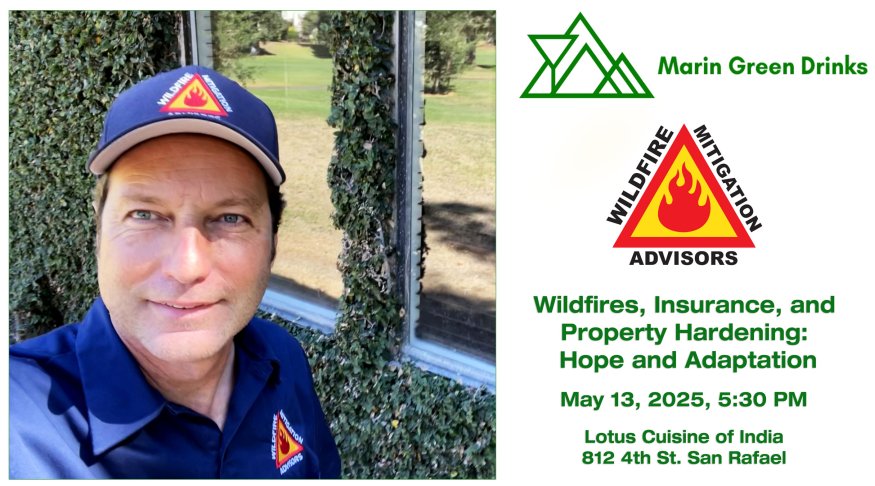 Marin Green Drinks
Green business networking and speakers.
Monthly every 2nd Tuesday
5:30 - 7:30pm
NEXT EVENT: October 13, 2015
2015 Bioneeers Conference Overview
Joshua Fouts, Executive Director, and Branden Barber, Director of Engagement and Development, Bioneers

Our special Joshua and Branden will talk about the amazing things happening at Bioneers this year, from the Family Fair to Organic Valley's GrassUP to the Summit Tent and so much more! They invite the Marin Green Drinks visitors to discuss collaboration and community with the Bioneers. You can help build better bridges between the Bioneers and our Marin County community. Much more than simply a lecture, this will be an exciting conversation we invite you all to attend.
Location:
Lotus Cuisine of India Restaurant
704 4th Street
San Rafael, CA 94901
Tel 415 456-5808
www.lotusrestaurant.com


2015 Speaker Series
January 13, 2015
Running a Successful Green Business in Marin County
Susan Griffin-Black, Founder & Co-CEO, EO Products
February 10, 2015
EMF Health and Safety
Alex Stadtner, Healthy Building Science
March 10, 2015
Protecting the California Wolf
Karin Vardaman, Director, California Wolf Recovery
April 14, 2015
Green Merchant Services - Commerce with Compassion
Jeff Marcous, CEO, Dharma Merchant Services
May 12, 2015
Venture Greenhouse 2.0: Progressive Business Accelerator
Matt Gaulding, Relationship Manager, Venture Greenhouse
June 9, 2015
Go Climb a Tree!
James Reed, Chief Executive Monkey, Tree Monkey Project
July 14, 2015
Changing attitudes towards Coyotes and other exploited carnivores
"Conservationist of the Year" Camilla Fox, Founder and Executive Director, Project Coyote
August 11, 2015
How Taking the Post Office out of Payments can Save You & Mother Earth
Madeleine Austin, Smart Receivables
September 8, 2015
Green Tea: Making Smart Decisions about Waste
Grier Mathews, Zero Waste Marin
October 13, 2015
2015 Bioneeers Conference Overview
Joshua Fouts, Executive Director, Bioneers
November 11, 2015
GMO Labeling
Debbie Friedman, Co-Chair MOMS Advocating Sustainability
December 8, 2015
Holiday Party with Organic Wine and Beer Tasting
2016 Speaker Series
January 12, 2016
Go on a Low Carbon Diet - Join a Resilient Neighborhoods EcoTeam
Tamra Peters, Director, Resilient Neighborhoods
February 9, 2016
IPM Integrated Pest Management
Tara Cahn
March 2016
Save the Bees!
Chris Conrad, Bee Conscious
April 2016
Contact us if you are interested in speaking or would like to recommend a speaker!
Relax, mingle and network with people living and working as green as we can.
Organic beer, wine, and dinner available. Complimentary appetizers from our sponsor and host in downtown San Rafael:
Lotus Cuisine of India Restaurant
SAMPLE SCHEDULE

5:30 Welcome and Networking
6:15 Green Greets
6:30 Speaker
6:45 Q&A
7:30 Wrap Up

Interested in speaking? Got lecture recommendations?
Hosted by Jody Ceniceros, Realtor, GREEN, and Alex Kahl, Green Web Services
For more info, or to be added or removed from our invite list:
Contact jodyceniceros@comcast.net