New Westminster, BC Green Drinks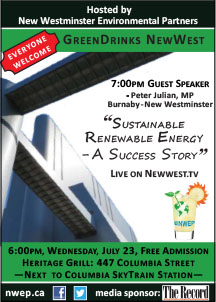 GreenDrinks NewWest, Wednesday, July 23, 2014: Sustainable Renewable Energy: A Success Story
Date: Wednesday, July 23, 2014
Start: 6:00pm
Location: Heritage Grill, 447 Columbia Street, New Westminster
7:00pm Guest Speaker: Peter Julian, Member of Parliment Burnaby-New Westminster

"
Clean energy strategies are successfully being put into place in many parts of the world. One of the most exciting examples of this transition to clean energy is that of the region of Samsø in Denmark. In 1997, Samsø won a government competition to become a model renewable energy community. Now, 100% of its electricity comes from wind power. During his visit last year, as Energy and Natural Resources Critic, Peter and his wife were informed by local residents that they were only the third and fourth Canadians to visit this area. Peter undertook this trip to Denmark and Germany, at his own expense, to examine green energy policies.
Please join us in person, or live at
n
ewwest.tv
, to hear Peter Julian talk about the Danish model, the Germany model, and how successful clean energy strategies can be great for the economy and the environment.
"
ABOUT GREENDRINKS NEWWEST
Meet up with others concerned about our common future!
GreenDrinks NewWest is an informal gathering of community activitists and environmentalists who get together to meet, discuss, and get to know each other in a relaxed atmosphere. Each GreenDrinks has a theme, with an informal presentation, to help participants feel connected and inspired by an issue.

Attendees are welcome to bring business cards, brochures, info sheets, magazines and newsletters to put on a table for people to take away with them. But they also have to make sure to take whatever is left when they leave.
GreenDrinks NewWest is hosted by members of the New Westminster Environmental Partners. To learn more, you can go to our website www.nwep.ca, "Like us" or "Friend Us" on facebook (nwepbc), or follow us on twitter.
If you would like to hear about the next GreenDrinks NewWest, which happens about every three months, you can join our non-members list by sending an email to contact [at] nwep [dot] ca.