New Westminster, BC Green Drinks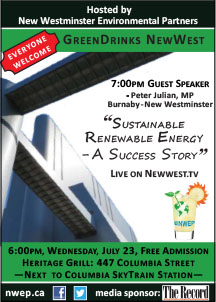 GreenDrinks NewWest, Tuesday, April 8, 2014: Defining a Citizens' Agenda
Date: Tuesday, Apr 8, 2014
Start: 6:00pm
Location: Heritage Grill Restaurant, 447 Columbia St, New Westminster
7:00pm Guest Speakers: Gene Desfor, activist with NoJetsTO, and Professor Emeritus, Faculty of Environmental Studies, York University
When Community Issues Challenge Federal Policies: How the NoJetsTO campaign defined a public agenda that included far more than the level of noise generated by jets to win the support of a majority of City Councillors.
ABOUT GREENDRINKS NEWWEST
Meet up with others concerned about our common future!
There is no agenda, but always a topic up for discussion, whether its green buildings, sustainable energy, organic gardening, or something else entirely.
Attendees are welcome to bring business cards, brochures, info sheets, magazines and newsletters to put on a table for people to take away with them. But they also have to make sure to take whatever is left when they leave.
GreenDrinks NewWest is hosted by members of the New Westminster Environmental Partners. To learn more, you can go to our website www.nwep.ca, "Like us" or "Friend Us" on facebook (nwepbc), or follow us on twitter.
If you would like to hear about the next GreenDrinks NewWest, which happens about every three months, you can join our non-members list by sending an email to contact [at] nwep [dot] ca.