New Westminster Green Drinks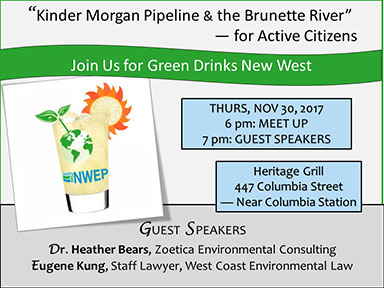 Next: Thurs, Nov 30, 2017
Venue: Heritage Grill, 447 Columbia Street, New Westminster: Steps away from Columbia Street SkyTrain Station
Contact: NWEP at the.nwep [at] gmail.com
NewWestminster Record: New Westminster fears pipeline project could threaten ecological zone
Thurs, Nov 30, Green Drinks New West: Guest Speakers
Eugene Kung, staff lawyer with West Coast Environmental Law, is working on tar sands, pipelines and tanker issues, as well as with RELAW (Revitalizing Indigenous law for land, air and water). He is committed to human rights, social justice and environmental justice and has been working to stop the Kinder Morgan TransMountain expansion project.
Dr. Heather Bears, Zoetica Environmental Consulting Services, is an expert Environmental Impact Assessment (EIA) practitioner, reviewer, and technical consultant for wildlife and wildlife habitat issues, terrestrial sciences, and ecotoxicology/genotoxicology in fish. As a consultant, she works on mining, land development, and energy projects and aids clients in complying with environmental regulations. She also advises, Aboriginal groups, government entities, and other intervening parties on the quality of Environmental Assessments and related reports produced by other consulting firms.
ABOUT GREEN DRINKS NEW WEST
Meet up with others concerned about our common future!
After a little break, Green Drinks NewWest is back. Our aim is to bring together an informal gathering of community activists and environmentalists who meet, discuss, and get to know each other in a relaxed atmosphere. Each GreenDrinks has a theme, with an informal presentation, to help participants feel connected and inspired by an issue.
If you would like to share your business cards, brochures, info sheets, magazines and newsletters with others, please put them on the designated table for people to view in their leisure. If you bring them, please also make sure to take whatever is left when you leave.
GreenDrinks NewWest is hosted by members of the New Westminster Environmental Partners.