Little Rock Green Drinks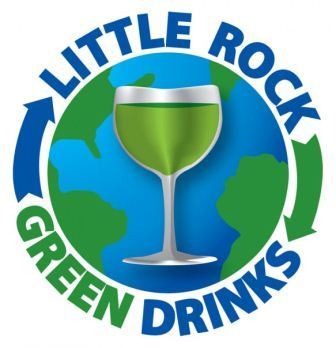 Little Rock Green Drinks celebrating 8 years of eco-networking!
According to one Green Drinker: " There was such a "buzz" in the air…..both a feeling and a sound!…..everyone was so interested in meeting others and finding out their interests. And it was such a welcoming, laid back group with so many diverse interests. If you weren't there, don't miss the next one! And bring a friend."
Little Rock Green Drinks meets from 5:30- 7:00 pm on the 2nd Tuesday of every month for a energetic and motivating social hour. Our meetup locations vary month to month, so stay tuned here or follow us on Facebook for the current month's meetup location.
January 11 @ Pantry Crest (722 N. Palm Street, Little Rock, AR 72205)
Happy Hour specials - Pilsner Urquell on tap $2.00; 1/2 price well-drinks; $4.00 hors d'oeuvres.
February 9 @ Creegan's Irish Pub (301 Main Street, North Little Rock, AR 72114)
Drink specials TBD
March 8 @ TBD
Drink specials TBD
March 31 - 7th Annual Little Rock Sustainability Summit @ William J. Clinton Presidential Center (1200 President Clinton Avenue - Great Hall - Little Rock, AR 72201)
This year at the Seventh Annual Sustainability Summit we will share a report card style update on the progress of 2020 Sustainability Roadmap. The Summit will focus on three goals from the Sustainability Roadmap. The goals to be discussed are commercial organic waste recycling, the adoption of complete streets, and plans for developing the Fourche Creek as a recreational destination. Our nationally recognized guest speaker, Chad Pregracke of Living Lands and Waters, will bring passion, energy, and inspiration to our discussion about cleaning and energizing the Fourche Creek Watershed. In addition, there will be the option to participate in a tour of one Fourche Creek location.
Register early @ https://www.eventbrite.com/e/city-of-little-rock-seventh-annual-sustainability-summit-tickets-20234371550
All shades of green are welcome!!!
Contact us: littlerockgreendrinks@yahoo.com