Little Rock Green Drinks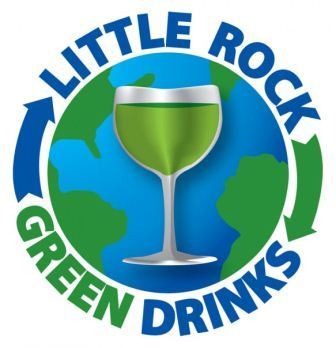 Little Rock Green Drinks celebrating 8 years of eco-networking!
According to one Green Drinker: " There was such a "buzz" in the air…..both a feeling and a sound!…..everyone was so interested in meeting others and finding out their interests. And it was such a welcoming, laid back group with so many diverse interests. If you weren't there, don't miss the next one! And bring a friend."
Little Rock Green Drinks meets from 5:30- 7:00 pm on the 2nd Tuesday of every month for a energetic and motivating social hour. Our meetup locations vary month to month, so stay tuned here or follow us on Facebook for the current month's meetup location.
April 19 - Audubon Happy Hour @ Flyway Brewing, 5:00-7:00pm
(314 Maple Street, North Little Rock, AR 72114)
What do birds and beer have in common? Climate change puts both our birds and beer at risk. We'll have helpful tips and resources on climate actions you can take to make sure our Arkasnas birds and beer are here to stay! Fork in the Road food truck will have food available for purchase, and Flyway will be serving up their delicious pretzels. Flyway is also brewing a special Audubon Arkansas beer (Audu-Blonde) launching in May!
April 21 - USGBC Arkansas 4th Annual Green Tie Gala @ Clinton Presidential Center, 5:30-8:30pm (1200 President Clinton Avenue, Little Rock, AR 72201)
The U.S. Green Building Council - Arkansas Chapter honors outstanding projects, companies, and individuals for their significant achievements in sustainable design and construction through the Green Tie Awards. The awards showcase the work of citizens, designers, contractors, owners, businesses, industries, and government agencies that are transforming the built environment of Arkasnas. Keynote speaker: Michele Grossman, LEED AP, GRI, Managing Principal, Sustainability Services, Waste Management. Cocktails at 5:30pm, Dinner seating at 6:30pm. Individual tickets from $110. Tables of 10 from $1,000. Click here to purchase tickets and RSVP.
April 22 - Earth Day @ Bearskin Solar Center, 5:30-8:30pm (126 Bearskin Lake Loop, Scott, AR)
Picnic on the Grounds, a Magic Show, and Singing to Fiddle Music at the 1st Solar Garden Cooperative in Arkansas for Entergy customers. Bring lawn chairs, blankets, and your favorite beverages. Enjoy a Southern vegetarian meal from Green Cuisine. We will plant flowers and vegetabels under and around the solar panels. The event is FREE and open to the public. Donations accepted to cover meal costs. Additional proceeds will go toward environmental justice efforts of Arkansas Interfaith Power & Light and Arkansas Renewable Energy Association. RSVP: arkansasipl@gmail.com.
April 23 - Every Day is Earth Day Celebration @ The Bernice Garden, 12:00-4:00pm (1401 S Main Street, Little Rock, AR)
Come meet leaders in the environmental community! Enjoy the work being done by local organizations, hand crafted items, and garden related demonstrations. There will be food trucks, live music, workshops, and kids' activities!
May 10 - Green Drinks @ Rebel Kettle Brewing Company, 5:30-7:00pm
(822 E 6th Street, Little Rock, AR 72202)
Come check out Little Rock's latest brewery, with 16 beers on tap! This place has a full menu, and great outdoor patio seating. Drink specials TBD.
June 14 - Green Drinks @ Drain Smart Unveiling Party & Fundraiser, 6:00-8:00pm
(614 President Clinton Avenue, Little Rock, AR 72201)
Our June Green Drinks meetup coincides with the Drain Smart Unveiling Party & Fundraiser, so we're combining events. Please join us in celebration of Arkansas artists' efforts to protect local waters. Meet the artists, learn about their storm drain mural art concepts, and find out what you can do to help protect water quality. Light refreshments, beer, and wine provided. Donations are appreciated, but not required. Proceeds will help continue this program and Friends of Fourche Creek protection projects.
All shades of green are welcome!!!
Contact us: littlerockgreendrinks@yahoo.com