Edmonton Green Drinks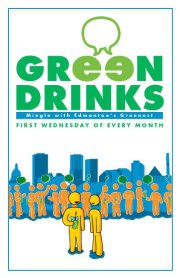 Next Event: Wednesday, November 7, 2012
Celebrating YEG Arts & Crafts
www.facebook.com/#!/events/171158189691119/
Green Drinks Edmonton is a simple and unstructured event, but many people have found employment, made friends, developed new ideas, done deals and had moments of serendipity. Everyone invites someone else along, so there are always a new faces.

We have a lively mixture of people from NGOs, academia, government, community members and business owners. Don't worry if you're shy—just come along and we'll look after you and introduce you to whoever is there. It's a great way of catching up with people you know and for making new connections.
We meet on the first Wednesday of every month at The Common (9910 109 Street). To keep things sustainable, we suggest a $5 donation at the door.
Please visit www.thelocalgood.ca/green-drinks-edmonton/ for more details.
2012 - 2013 Upcoming Events