Umea Green Drinks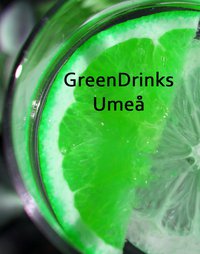 Welcome to GreenDrinks UmeŚ!
GreenDrinks UmeŚ is open to anyone interested in or working within sustainability and aims to be a meeting place and an inspiration for all of us. Every time someone is invited to talk about their work, a project or maybe a theory.

GreenDrinks UmeŚ is organized by Sustainability UmeŚ - a network of buisnesses with green core values in UmeŚ.

We meet on the third tuesday every month at Pipes of Scotland, see below for adress, for cheers and "mingel".

Please join our fanpage (GreenDrinks UmeŚ) at Facebook, or send your contact details to the address below if you want to get note about next GreenDrinks in UmeŚ!

Is next on: Tuesday the third in every month, at 17-19.
Venue: Pipes of Scotland
Contact: Emanuel Nandorf at info [at] miljokonsult (punkt) nu
†
Already drunk GreenDrinks UmeŚ!