Ubud Green Drinks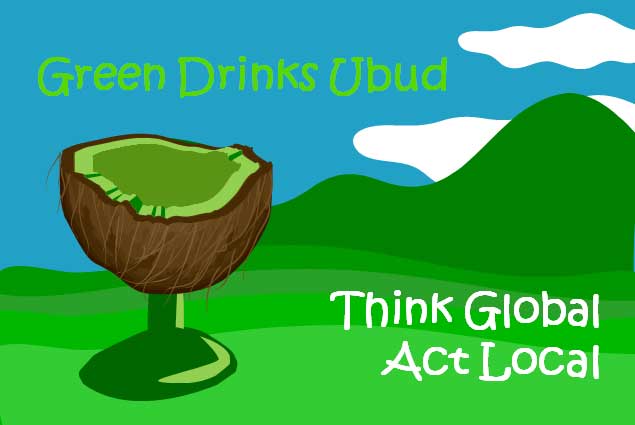 THINK GLOBAL - ACT LOCAL
"Be the change you wish to see in the world" – Gandhi
Join us for our monthly gathering of Ubud area's eco passionate residents, professionals, activists, expats, Permaculturists and changemakers.
Informal, self-organizing network - Every month in Ubud!!
Green Drinks is a global organization – active in 600 cities worldwide!
See you there!

WHEN:
2nd Tuesday of Each Month
6:30 pm – 7:30 pmish … and onwards
WHERE:
Bali Buda Ubud
Jl Jembawan #1 (across from the Ubud Post Office)

WHO:
Anyone working on environmental issues or studying them, people interested in sharing ideas and networking in a green way, or anyone else interested in making the world a greener, better place . . .
WHY:
For fun, networking, sharing a drink at the end of the day, inspiration, business and pleasure.
HOW:
Walk, cycle, bemo, motor, carpool, skate, rollerblade, unicycle, pogo stick, cartwheel, hop, skip, taxi, teleport, etc.
NEW TO GREEN DRINKS?
Just go up to someone and say hello, and you will be made welcome.
REMINDERS:
To get on the email circulation list, send an email to: ubud@greendrinks.org
MAILING LIST:
If you are invited by a friend to come, the more the merrier, but please send along your e-mail address to: ubud@greendrinks.org so that you will receive future invitations from the organizers.
Orrganized by: Darsih at admin [at] indonesiaorganic.com