Sarajevo Green Drinks
[ENG]
Have you ever heard of the Cradle to Cradle concept?

Join us this Tuesday as our guest speaker Franziska Singer will present you this circular economy concept who has deep-rooted origins. Its practical applications to modern economic systems and industrial processes, however, have gained momentum since the late 1970s, led by a small number of academics, thought-leaders and businesses.

This design philosophy considers all material involved in industrial and commercial processes to be nutrients, of which there are two main categories: technical and biological. The Cradle to Cradle framework focuses on design for effectiveness in terms of products with positive impact and reducing the negative impacts of commerce through efficiency.

Where : Caffe (Kino) Meeting Point., Hamdije Kreševljakovića 13, 71000 Sarajevo https://www.facebook.com/caffemeeting.point

When : 19:30, November 10.


Green Drinks Sarajevo is arranged for anyone who has a positive interest in the environment and sustainable living. The events are made simple and many come to meet new friends, have a conversation with industry professionals, find employment (or employees!) develop new ideas, discuss issues, solve problems and have moments of serendipity!

Meeting Point will propose once again a discount especially for us :)
- draft beer: 1.5 KM (25cl), 2.5KM (50cl)
- gin & tonic: 2.5 KM
- Martini: 2 KM
It's Happy Hour at Green Drinks Sarajevo this November 'cause Meeting Point is offering us one of the finest pale lager beer the Corona Extra for price of 3 KM a bottle.

Feel free to invite friends and share the event !!!

Join the eco-minded, eco-professionals, & eco-curious of Sarajevo for a casual monthly gathering to blow off steam after work, meet friends, make connections & share information. No dues, no membership...strictly social!

Join the Green Drinks Sarajevo Facebook groupe : https://www.facebook.com/groups/374440389305129/?ref=ts&fref=ts
For more information about Green Drinks : https://www.facebook.com/pages/Green-Drinks-Sarajevo/576739839061276

If you have some questions or comments please feel free to contact us by Email at :
greendrinks.sarajevo@gmail.com

* * * * * * * * * * * * * * * * * * * * * * * * * * * * * * * * * * * * * * * * * * * * * * * * * * * * * * * * * * * * * * * * * * * * * *

[BHS]
Jeste li ikada čuli za Cradle 2 Cradle koncept?

Pridružite nam se ovog utorka kada će nam naša gošća govornica Franziska Singer predstaviti ovaj koncept kružne ekonomije koja ima duboko ukorijenjeno porijeklo. Njegove praktične primjene u modernim ekonomskim sistemima i industrijskim procesima, koji je stekao zamah od kasnih 1970-ih, predvođen malim brojem akademika, misaonih-vođa i poduzetnika.

Filozofija ovog dizajna smatra sve materijale koji su uključeni u industrijskim i komercijalnim postupcima kao hranjive tvari, od kojih su dvije glavne kategorije: tehničke i biološke. Okvir Cradle na Cradle se fokusira na dizajn za učinkovitost u pogledu proizvoda s pozitivnim utjecajem i smanjenje negativnih učinaka trgovine kroz učinkovitost.

Gdje: Caffe (Kino) Meeting Point., Hamdije Kreševljakovića 13, 71000 Sarajevo https://www.facebook.com/caffemeeting.point

Kada: 19:30, utorak 10 novembar 2015.


Green Drinks Sarajevo je osmišljen za sve one koji imaju interes za okoliš i održiv život. Događaj je sasvim pristupačan i prilika da upoznate nove prijatelje, razgovarate sa profesionalcima iz industrije, nađete zaposlenje (ili zaposlenike!) razvijete nove ideje, raspravljate o raznim temama iz ekologije, učestvujete u rješavaju probleme i povećaju šansi da nam se život preokrene na bolje!

Meeting Point daje popust na sljedeća pica samo za nas :)
- točeno pivo: 1.5 KM (25cl), 2.5KM (50cl)
- Džin-tonik: 2.5 KM
- Martini: 2 KM

Slobodno pozvite prijatelje i podijeliti event !!!

Pridružite se eko-osviještenicima, eko-profesionalcima i eko-znatiželjnim ljudima Sarajeva na neformalnom mjesečnom skupljanju za opuštanje nakon posla, upoznavanje prijatelja, stvaranje poznanstava i razmjenjivanje informacija. Bez naknade, bez članstva...

Postanite član Green Drinks Sarajevo grupe na Facebook-u : https://www.facebook.com/groups/374440389305129/?ref=ts&fref=ts
Za sve dodatne informacije konrtaktirajte nas putem Email-a na :
greendrinks.sarajevo@gmail.com
_____________________________________________________________________________________________________________________________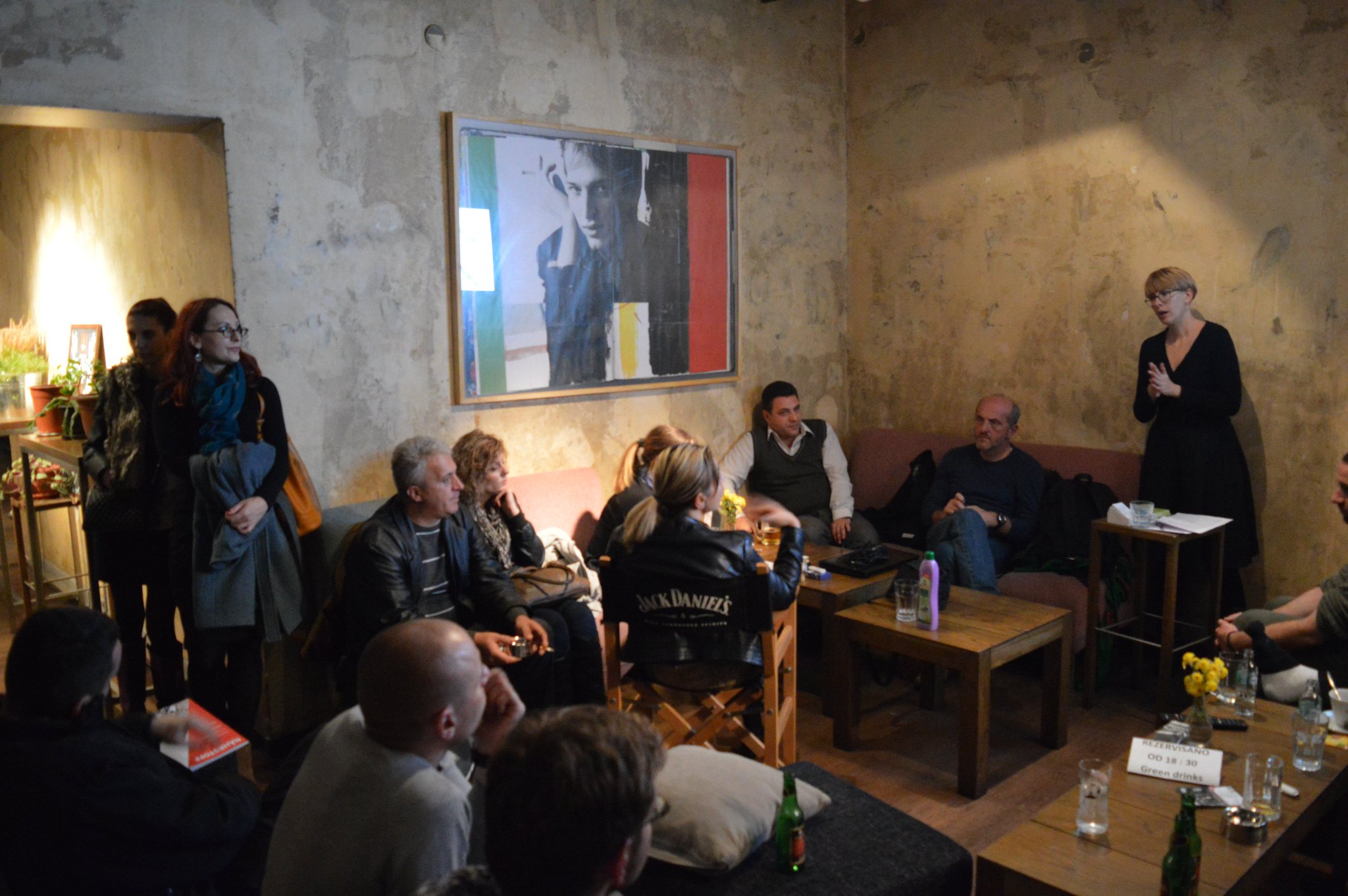 Meeting point
| Bars, Coffee & tea | Coffee BAM 1.50
Hamdije Kresevljakovica 13
09:00 – 23:00 daily